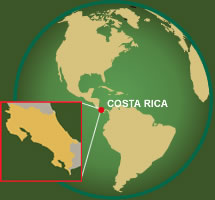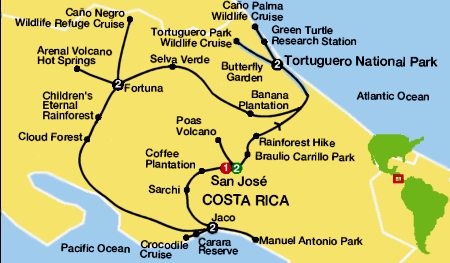 #7766, $1306
I would recommend these guys
Livin' La Pura Vida!
A great catch all saying the Ticos use, literally meaning "the pure life."
To translate to my interpretation, I borrow some from Jon Bon Jovi-
"Better stand tall when they're calling you out
Don't bend don't break baby don't back down
It's my life, and it's now or never
I ain't gonna live forever
I just wanna live while I'm alive
My heart is like an open highway
Like Frankie said I did it my way
I just wanna live while I'm alive, 'cause it's my life..."

1st day, Friday 9th
American #1918 AUS 3:37pm to Dallas


Leaving Austin behind #2167 Dallas 5:47pm to San Jose, Costa Rica

So I used as many miles to get my flight in first class as two coach seats would have cost, and I paid the singles supplement/tax and would have multiple beds in my room. Heck, felt like I was my own virtual date and paid accordingly...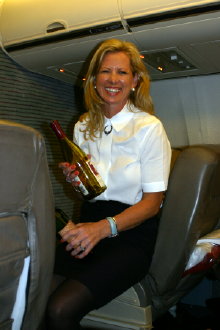 Ann, our stewardess in first class and a great person to have spent the beginning of a journey with
In all of my international flights I think I literally haven't had a single alcoholic drink until this flight, not wanting to get dehydrated and needing to keep all my faculties about me. I chalk these glasses of red wine up to the new medical awareness of a glass a day may help keep the heart attack away.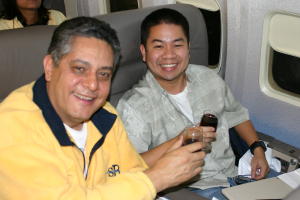 Fernando, former Navy Reserve officer, UC professor, and my seatmate
We had many views in common, and he comes to Costa Rica often and had the scoop on the nightlife. So after grabbing dinner at the hotel I hit the town a little, but it wasn't really my scene. "Welcome to the rich coast, tranquil land of democracy and rare natural beauty. With naturalist guides, see exotic birds and wildlife, hike in jungle rainforests, view volcanoes, cruise by boat through biological reserves, relax on both the Atlantic and Pacific coasts. Caravan provides transfers from the San José airport to the Barcelo Palacio Hotel. Enjoy dinner."
I would miss the 8pm welcome briefing.

2nd day, Saturday 10th
Poás Volcano, Coffee Plantation, San Jose Sightseeing
Depart 8am
"Morning drive to the colonial village of Alajuela. See the statue of the drummer boy, Juan Santamaria, Costa Rica's national hero. Next, weather permitting, visit the mile-wide crater of Poás Volcano, dormant since 1991. Return to San Jose for lunch. See San Jose's Plaza de la Cultura, Central Park and the National Theatre. Visit the National Museum, see pre-Columbian granite spheres and gold and jade artifacts. Then, visit a coffee plantation. Coffee plants grow particularly well in the climate of Costa Rica. Pick a few beans when in season, try samples of fresh Costa Rican coffee. Enjoy dinner."

Me and Juan Santamaria, drummer boy/national hero

Poas

At a coffee plantation
National Museum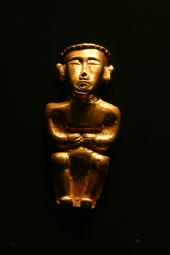 Artifact from the Museo de Oro Precolombino (Museum of Precolombian Gold)
Morpho butterfly

Our group at the National Monument

3rd day, Sunday 11th
San Jose - Braulio Carrillo National Park - Rainforest Aerial Tram/Hike - Canal Cruise - Tortuguero National Park
Depart 7am
"Scenic morning drive through Braulio Carrillo Park. Look for cascading water falls. Next a thrilling adventure into the heart of the rainforest. Glide over and above the jungle canopy on Costa Rica's world famous Rainforest Aerial Tram Then with a naturalist guide enjoy a short rainforest hike on level terrain. After lunch, take a boat cruise through rivers and canals to the 47,000 acre Tortuguero Park, home to more than 300 species of birds. Watch for white-faced monkeys and colorful toucans, kingfishers, parrots, and the rare green macaw.
Tonight, after dinner in Tortuguero, a naturalist gives a talk introducing the rainforest."
Stayed at Laguna Lodge right on the river.

What I tell my women...

My coveted toucan pic (actually I believe a collared aracari)

Our guide Maureen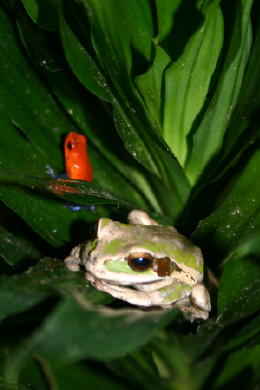 Poison frogs

"hot lips"

Shelly and I see big bugs
The Tico family here actually sold the dead ones as souveniers and several people on the bus bought them. They went through all sorts of brainstorming the rest of the trip to try and keep them from smelling.
Also Shelly had some wonderful personality traits that are unfortunately hidden here, but I would even hear other women complementing her on them.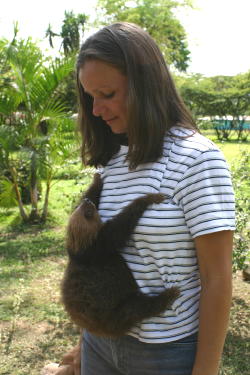 An orphaned baby sloth, now adopted and apparently nursing