Dallas area
June 11, 2005

When singing along to the song playing, replace the lyric "Panama" with "Danica." It works pretty well.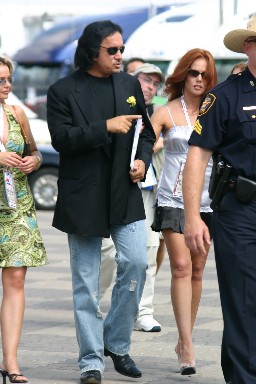 Rock star of KISS fame Gene Simmons was a special guest at the race, along with his two babes

In the Garage, Danica's car and crew in the background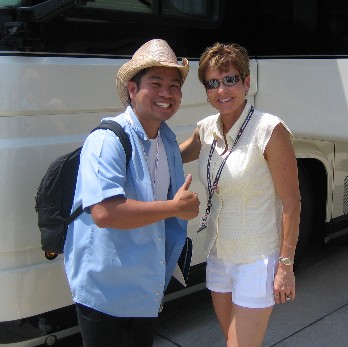 Danica's mom, as seen during the end of the Indy 500 TV coverage
I saw her dad and fiance there too

Driver Vitor Meira, who finished second at Indy, as he is about to drive off on a scooter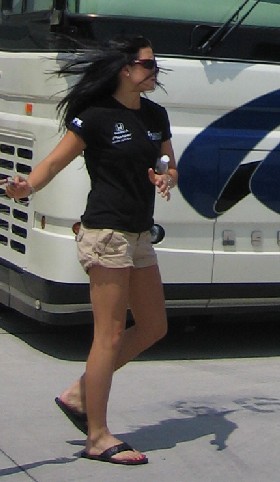 My second Danica sighting of the day as she runs by in the hospitality area, having given an autograph to a little kid

Third Danica sighting, after she spoke briefly to the Argent guests but then ran off on a scooter to a press brief

Pretty funny, Buddy Rice's shirt says "Danica's Teammate" and Vitor's "Danica's Other Teammate"
Indy winner Dan Wheldon had one on that said "I actually 'won' the Indy 500"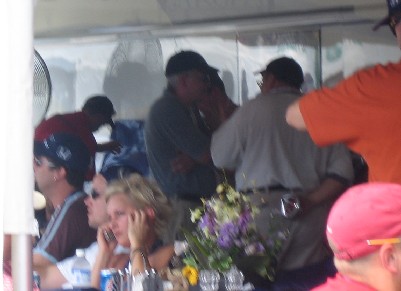 You can kind of make out David Letterman here talking in the hospitality tent

Fourth time is the charm, and it's the only time I saw her crack a smile all day
Stupid hat...

Steve, Dave and I in our air conditioned suite, complete with a bar, food, and bathroom. This is the way to see a race.
Steve and Dave have raced for years on an amatuer level- Spec 4 and Formula Mazda, respectively

We see the guys from the show " America Chopper"
The upper right one was made specifically for this occasion, unveiled here and made out of Learjet parts

After announcement all the drivers took a lap around the track on the back of Chevy trucks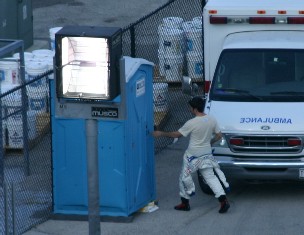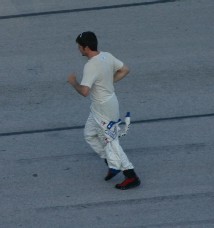 This is the driver, I think Patrick Carpentier , of the Red Bull car that was second to last in the line-up, luckily for him the closest spot to the bathroom. Here you see him running not once, but twice to the pot-o-john just before the race. Guess he had a nervous stomach.

Our view to the right
During the National Anthem, you can see all the cars and crews lined up

Green flag about to drop!

Our view to the left

Gene would hang out in our suite
He said to me, "Hey, aren't you that guy from Poison?" Apparently Jesus (James Caviezel) was here as well, but I didn't see him. Race Results