JOHN & DAVE'S EASTERN AFRICA SAFARI
August 29th-September 16, 2002
The great white hunter encounters the dark continent

OK, a few things: Safari means journey in Swahili. "Great"?- well that's a matter of who you ask. Some will say yes, some no. I'm not white. I've never been hunting- unless you are referring to my sales territory. The dark continent is what they called the Africa theme of the Busch Gardens amuzement park in Tampa I went to as a kid, closest I ever thought I'd get to the place.

For all you ladies seeking a mate- not only am I funny, intelligent, cute, and can bring home the bacon, but note that I am also immune to hepatitis A & B, yellow fever, typhoid, measles, mumps, rebella, chicken pox, polio, and temporarilly malaria. For those who read the news- yes it is lariam, but I am no longer at Ft. Bragg. Clean as a whistle for the personal ads, folks.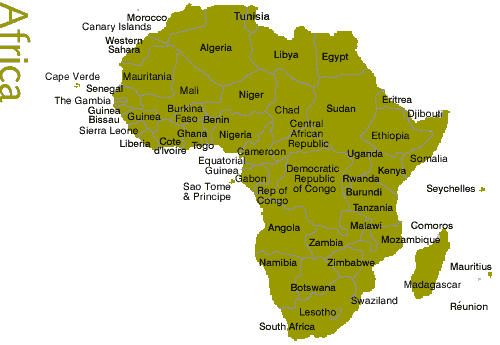 Note: pictures that have some sort of frame on one side were taken by John. Added them to the site May '03. His shots from the 60 rolls he took were incredible, and these are just a taste of what he got.
February 2008- In prepartation for my March return to the continent I've been going back through the pics and have scanned in a bunch more pics, or rescanned some of the old ones back in as bigger. With everyone having high speed connections the way I do these web pages can be a lot more robust than just a few years ago.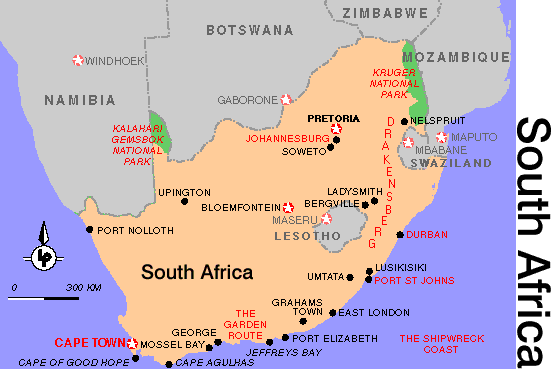 Thursday August 29th- Delta #2006 AUS to ATL 5:30am to 8:53am
South African #210 ATL to JNB 10:30am to 10:20am next day (through Capetown)
Looking through my notes I do write how exhausting the flights were...but they also had good meals, and movies on demand. I watched "The Rookie" which had a scene with Brenda's son Seth in it as the catcher. Got in mid-day. Basically Jo'burg serves as our transportation hub.
The World Summit on Sustainable Development was going on while we were there, people kept asking us if we were delegates.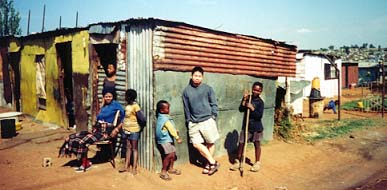 Incredible page By Bruce Damer describing the Soweto Township better than I ever could.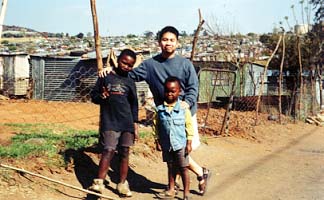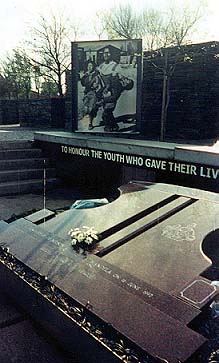 Hector Peterson Memorial

On our tour we also saw Nelson Mandela's two houses, Bishop Tutu's house, and ate a buffet dinner in a Soweto restaurant, with "real" African food which reminded me of Jamaican food.

Black Baby Jesus, funny enough flashing the piece sign like the kids earlier
Regina Mundi Church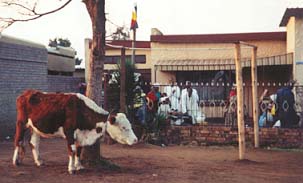 Cow waiting to be slaughtered for a family celebration

While the township was filthy, the cars of Joburg were primarily BMWs, Mercedes, and Audi. And the skyline reminded me of Seattle for some reason, although at this point I can't picture it any more. "Visiting without a companion who has local knowledge is likely to be disasterous."- Lonely Planet Stayed at the Orion Hotel Devonshire, $54

NEXT