Dave's Antarctica Expedition
The Seventh Continent
December 26-January 6, 2008

Funny enough a Coke commercial that combines penguins and polar bears- just like my two recent trips!
22nd- fly Continental #1758 AUS 11:15am to Houston 12:16pm
#1548 1:30 to FLL 4:53pm, $276

This was a relatively impromtu trip since I wasn't able to get my Disney trip together like I wanted. At one point I thought I would never make it to the seventh continent, or if I did it would be a trip for my olden years. Well, two months from now I'll be looking back on it, so I guess you just never know. Like my fellow great explorers Shackleton and Scott that have gone before me (ahem), I'm not really sure what to expect. It will be like my Galapagos trip in terms of taking zodiacs in to remote islands to view wild life, and like Prince William Sound in terms of ice and glaciers. But it is too cold to snorkel, much less variety of wild life to view, and this will be more like a "real" cruise. And I've already been to Buenos Aires back in 2005. I figure it'll be laid back, with lots of pics of penguins and ice? As could be expected, the world experience and maturity of my fellow travelers was quite advanced. For most, by the time you are getting to Antarctica you have been around the block, likely in more ways than one. Let's just call us wise, perhaps to where we have been hardened but then thawed?

Wednesday the 26th- American 100k miles
#909 8:30pm FLL to BA 7:10am next day
Flight had lots of space, including being able to move around to have no one sitting next to me (after giving the obligatory dirty look to the person that showed up to sit next to me- sorry about that). Thursday December 27th
"Breakfast is included at our hotel. Today, we will enjoy an included half day tour of Buenos Aires [skipped it]. The balance of the day is at leisure to enjoy this vibrant city. Buenos Aires is called the Paris of South America, because of its wide garden lined boulevards, its elegant shopping, chic artists' quarter, street cafes and lively nightlife."

Traffic was pretty bad, took an hour to get to the hotel. And I was reminded of how bad the pollution from car exhaust was/is here. "Located in the heart of the city, the Sheraton Buenos Aires Hotel is a landmark for international travelers. A half-hour from Ezeiza Airport, the hotel offers spectacular views of Buenos Aires and the Río de la Plata."


View from my room

In the breakfast room I met Bill, Susan, and kids from Kansas City. In exchange for charging their camera battery I was going to tag along on their day trip to Uruguay, but after walking to the ferry terminal we found out the boats were sold out. So no dice, and I may never see Uruguay. After taking a nap, I went by the pool, then motivated and took a cab to the Evita Museum.


Evita is a key figure that still permeates the city, but don't fear if you never make it to this museum, it's really some memorabilia displayed in a house.
More info

Evita joins my fellow workers and I

Yet another appearance to motivate our countrymen...

This was cool to see- caddy corner from our hotel was the 'Monumento a los Caídos en Malvinas' (Monument for the fallen on the Falkland Islands)- a Falklands War memorial


There was some sort of Jewish international athletic competition going on. After a brief work out at the hotel gym (a habit that would actually continue) and on the way up the elevator I said hi to a girl wearing Gator clothes. Orley was a former Gator gymnast now coaching, and with her long time coaching friend Tammy we went out to dinner in the Puerto Madera area. We had a bottle of wine and tequila shots that were about 3x normal size.

Some BA articles
CNN.com
Angry travelers riot at BA airport

Friday December 28th "Breakfast is included this morning. Following breakfast, we will check out and be transferred to the airport for our flight to Ushuaia where we will be met and transferred to our cruise ship, the fabulous Marco Polo of Orient Lines. (B, L, D onboard ship)"
Charter flight, Aerolineas Argentinas #1996 0900-1240 Ushuaia

Our NCL rep appears to be doing their job

Evelyn and Heather, my two new friends from the trip
Along with Giovanni my companions, and a shout out to Zeke and Steve
Evelyn and Heather are high school friends that are both FSU lawyers. We met up at this mornings breakfast, Heather having recognized me from a polar bear picture I sent to the group over e-mail. We all have a love of travel and photography, some similar styles, and create great combinations. I would eat lunch on the boat, where I would meet Giovanni, Shira, and a few other members from our group. Would meet up with Evelyn and Heather there as well. We would do the 4pm ship tour and then the fire station drill- very tempted to skip this, but it seemed relevant due to recent events.
It was my idea for Eric and I to go into town together with whoever was renting boots. I ended up skipping the group excursion there, and heard it was a fiasco. It was a simple walk into town, and also picked up some postcards, which apparently were hard to get on board ship.

Zara, my favorite Aussie "This evening, before dinner, enjoy a private welcome aboard cocktail party for our group in one of the ship's deluxe lounges [this didn't happen]. Dinner and all meals over our cruise voyage are included. Our group will enjoy dining together each evening. After dinner each night, enjoy a lavish, on stage, song and dance show, then enjoy a spin in the casino, sing along in the piano bar, or a turn on the dance floor in the disco."

Saturday December 29th En route to Deception Island- 606 miles
"We enter the Drake Passage, named for Sir Francis Drake, the explorer who proved that Tierra del Fuego was not linked to a further southern continent. Various seabirds, including the Wandering Albatross, accompany us on our crossing. We also sail through the Antarctic Convergence, which – as one of our specialists will be happy to explain, pouring over a map in the lounge – is a natural boundary formed by the meeting of cold Antarctic and warmer Subantarctic waters."
Our crossing did seem relatively smooth. 9:15am- meet the expedition team, lecture "The Ecology of Antarctica"
11am- lecture "Seabirds of the Southern Ocean"
2pm- lecture "Marine Mammals"
4pm- lecture "The History of Exploration of the Antarctic Peninsula"

With Mark from NYC There must of been huge pent up demand in both Heather and I for woldlife photos, as I know I took over 80 shots of these bids off the back of the ship, and I think she took even more.


"Linger leisurely over lunch onboard ship. If you wish, work out in the ship's fitness room, while overlooking scenic waterways. Maybe you'll wish to schedule a spa treatment onboard. Late this afternoon, join us if you wish, on the sky deck, for the first of our daily ALLSINGLESTRAVEL hot tub Jacuzzi socials in the ship's triple Jacuzzis. Tonight, enjoy the captain's cocktail party for all passengers on the Marco Polo. After dinner, enjoy another great nightly show, followed by a chance to enjoy dancing or casino fun (B,L,D)" I would have the buffet dinner at Raffles with Alissa and her mom then see the 8:45 Laura Compton show.

TRIP PRICING INCLUDES:
OK, I'm putting my thoughts in brackets [ ] below. Not meant to be be overly negative or to bitch, at this point it really is to help me remember the experience. * 3 SHIPBOARD EVENING COCKTAIL PARTIES: - WELCOME ABOARD PRIVATE COCKTAIL PARTY ON 1ST NIGHT (FOR ALLSINGLESTRAVEL.COM PASSENGERS ONLY), - CAPTAIN'S SHIP-WIDE COCKTAIL PARTY ON THE 2ND NIGHT, - PRIVATE FAREWELL COCKTAIL PARTY ON THE FINAL NIGHT (FOR ALLSINGLESTRAVEL.COM PASSENGERS ONLY)
[Of note was the photos taken with the Captain- he had this tremendous frown in most of his pictures. Wendy even states he was leaning away from the guests in some. Pretty funny. Despite this and all his time at sea if you read his bio below he is married with kids. Someone out there for everyone? Who knows I guess.]

* SHORE EXCURSIONS IN EACH PLACE VISITED, ALL IN SMALL GROUPS WITH 1 PROFESSIONAL ORIENT LINES EXPERT NATURALIST GUIDE FOR EVERY 20 SHIP'S PASSENGERS
[3 one hour excursions done for 6 days at sea.]
[I must admit this is something I actually had an expectation around- in the Galapagos there were naturalists explaining stuff to our group every step of the way. While it sounds like others got some good info, and I must say I wasn't very proactive on my part in terms of interacting with them, I can recall just about zeron commentary on our zodiacs and almost nothing pointed out on land except for one guy pointing out an egg. The primary action I saw out of them were to selectively police what area they thought you should be in, kind of like I did as a movie theater usher with crowds when I was 15.] * ONBOARD ORIENTATION TALKS BY ANTARCTIC EXPERTS.
[The reality is these were really a struggle to stay awake in.] * A WARM RED EXPEDITION PARKA - FREE
[Another expectation- a high end, down, puffy, fur around the hood type of thing that screamed "I'm either a research scientist or someone that spent a butt load of money going to Antarctica." It just felt like a cheap plastic jacket. It did work well enough in terms of keeping us dry and warm, but outside of the first zodiac launch the conditions were never very extreme.] [I will also say that they had a good variety of tasty meals. Over the last few days a few of us took to the best practice (or worst practice) of ordering a second round of something we would enjoy, or two dishes instead of choosing just one. Yep, decadent.]

INSIDE CABINS: CATEGORY I - SUPERIOR INSIDE CABIN 128 to 149 sq. ft. on Main deck (the 5th deck from the top of the ship of 9 decks )
ONLY $3999 per person + tax of $160 per person" + single supplement "On this special voyage, we will spend 10 days visiting some of the most spectacular scenery on earth, witnessing towering mountains of ice, along with tremendous wildlife including Penguin colonies, seals, whales and more. Plus we will enjoy 2 FREE days and nights to see the fabulous sights of Buenos Aires prior to our cruise and 1 day & night in Ushuaia Argentina, the southernmost city in the world with an included tour of Tierra Del Fuego National Park after our cruise.
Late December and early January are the ideal times to visit Antarctica for the best weather, as it is the Antarctic summer and Average daytime temperatures at this time are pleasantly in the 30's. This is also prime time for optimal wildlife viewing. Our voyage will take place aboard Orient Cruise Lines, winner of several awards including Conde De Naste Travel magazine's 10 best cruise lines list 7 of the last 10 years and Travel & Leisure magazine's top 10 cruise lines list 6 of the last 7 years. Our ship, the Marco Polo, is specially designed for Arctic and Antarctic exploration. ORIENT IS THE ONLY LINE AND THE MARCO POLO IS THE ONLY EXPEDITION THAT OFFERS A DOUBLE ICE STRENGTHENED HULL, WHICH MEANS THE SHIP CAN BREAK THROUGH ICY WATERS AND THUS GET INTO PLACES OTHER SHIPS CAN NOT GET INTO, MEANING YOU SEE MORE !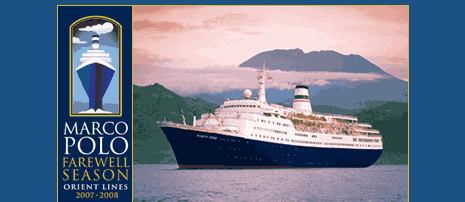 Cabin 635 ORIENT IS ALSO THE ONLY LINE WITH AN ONBOARD HELICOPTER THAT SCOUTS OUT 1ST THING EACH MORNING, THE BEST LOCATIONS WHERE THE WILDLIFE IS THAT DAY, SO PASSENGERS GET THE BEST WILDLIFE VIEWING EXPERIENCE EACH DAY.
[No helicopter to speak of. Rumor is it was sold on e-bay a few years ago.] The Marco Polo also provides one of the smoothest, most comfortable rides of any Antarctica sailing vessel, thanks to her huge fin stabilizers, giving passengers an exceptionally smooth passage, where other vessels may experience rocky sailing. The Marco Polo also provides exceptional on board amenities to savor after a day of exploration ashore. 3 hot tubs on her sky deck, make socializing with your new friends at the end of each day's excursions, all the more special, or while watching the breathtaking scenery glide by, during a day a sea. The Mandara Spa and Fitness center also provide a chance to enjoy a soothing massage or an invigorating workout onboard our ship before or after a day of exploration ashore or on a day cruising at sea. An internet cafe is also at available onboard so you can keep in touch with friends, family or business back home. Also, unlike larger ships, the Marco Polo does not have any children's play or daycare areas, so all of our guests can rest assured, your vacation will not be interrupted by a parade of noisy children. Whether you choose an inside cabin or one offering an ocean view, you will receive in room amenities that include individual air-conditioning, direct-dial phone, spacious closet, mirrored dressing table, music console, personal safe and a bathroom with shower, plus a hair dryer. All rooms also contain a safe for storing your valuables. All passengers will also receive a warm red expedition parka. The Marco Polo truly provides the best of both worlds - small ship ambience and friendliness, with big ship comforts. Evenings bring lavish entertainment, both onstage and throughout the ship. Enjoy a nightly show production, then if you wish, try your luck in the ship's casino, relax in its piano bar or dance till dawn in the disco. AND DON'T FORGET, OUR ONBOARD NEW YEAR'S EVE PARTY CELEBRATION Specialist presentations onboard, help you understand the scenery, the animals and all about each day's breathtaking panorama. Orient's staff will keep our passengers well informed at all times, so we can enjoy our vacation to the fullest. Interaction within a close-knit group of adventurers on a small ship setting, makes our trip all the more special. Orientation briefings, hosted by our cruise ship, will offer passengers the chance to best enjoy and appreciate the magnitude of what we will be witnessing each day. Antarctic Adventure: Actively Exploring the Peninsula When you set foot on the White Continent, you want to benefit from the collective expertise of veterans who know the region inside out. That's the essence of our Antarctic Adventure. Sailing through iceberg-filled bays beneath snowcapped peaks; spotting seals and whales among the ice floes; exploring vast penguin rookeries and remote research stations – it all adds up to the perfect introduction to Antarctica for a small group of active adventurers. Our ship holds only 400 passengers for its Antarctic sailing and in each port visited, passengers go ashore in small groups with 1 expert guide for every 20 passengers, providing the special small group expertise and attention that make our Antarctic exploration special. Orient's expert naturalist guides will explain the unique behavior of the abundant wildlife. Ample free time is also provided in each port, to explore the tremendous sights further at your own leisure. Our Orient Line Antarctic cruise truly gets you up close so you can interact with the wildlife if you wish, or just take photos of a lifetime! AND excursions in each place visited are included in your cruise price. Watch as a whale breaches just a few yards from the ship. Compare antics of the penguins you've encountered and laugh at the antics of seals that will serenade you. Such moments will be unforgettable treasured highlights of this once in a lifetime vacation experience. $1 = 3.12 pesos