DAVE'S WALKABOUT
MAY 25 - JUNE 12, 1999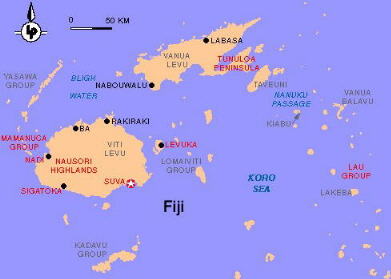 BULA!


9 out of every 10 new businesses fail
Club Fiji, Nadi Deep thoughts- as I watched the sun go down in Fiji I actually reflected on how lucky I am. From my family's first year in America in a smelly North Miami apartment with no TV and an uncertain future, to gazing at the sunset on a South Pacific island (by choice) with my eye on a 32" Sony WEGA picture-in-picture flat screen when I get back to the States.
Future still uncertain, but bright.


Beachcomber Island, Mamanuca Group

Highlands of Viti Levu


Never let the Chinese guy drive
Shotover Jet, Nadi 5/25- RDU to DFW to LAX. On flight bonded with Dorine, a TV producer from LA.
Flight out to Fiji on Air Pacific had a row of three seats to myself, so got to lay down and sleep- very nice! I also noted that the food was pretty good (steak, ravioli). Talked lots with Lila, a secretary from LA that was heading out to do a Captain Cook's cruise. Got in pretty late in the evening so ended up splitting a place at Club Fiji with Lila. I spent most of the night at the bar bonding with fellow travelers. 5/27- Apparently I woke up pretty hung over, ate breakfast, then took a cab to the Dominion Hotel to catch a boat to Beachcombers. There I met Brett, an Aussie from Cairns, who I'd hang out with for the next few days. Also met Becky, a Canadian going around the world. On the ride over I felt sea sick, so had to lay down a little in my dorm bed once I got to the island. After nearly barfing, took a five minute walk around the island and also went snorkling. Would have a dinner of spaghetti with Brett, Becky, and two Canadian guys who asked me lots of questions about B-school. 5/28- breakfast with same four folks, then sat on the beach, and chatted with a Betsy at the basket weaving class. Took the boat back to Nadi- weather was fine and I felt fine as well. Took my tour of Nadi with Inland Tours, a guide named Deven. This included stopping in a village for a native kava ceremony and a drive through the mountains. Got back to Denavau Point in time to do the Shotover Jet with a French couple. I believe I spent my last night in Fiji staying at the Nadi Holiday Inn Youth Hostel for something like $6. I remember thinking it was out of the way and in an iffy neighborhood, with nothing to do there. I walked into town and had dinner of roast chicken at a The Bounty hotel that I should have stayed at.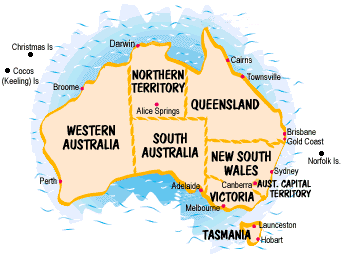 AustraliaG'DAY!

"Sydney is the 'best city in the world' according to readers of Condé Nast Traveler magazine and Travel & Leisure Magazine. It is also the sight of the Olympic Games in the year 2000. From its convict origins as the first European settlement in Australia, it grew up to become the country's largest and most exciting city. With its beautiful harbour and beaches, Sydney is very scenic. It is your major gateway to the State of New South Wales and the rest of Australia. "

5/29- got up at 5:30am for my flight, hostel didn't provide a ride to the airport although their brochure had promised to. Stayed at the Jolly Swagman Hostel. Walked through the botanical gardens to the Opera House. Walked back to the hostel to get my ASA800 diposable camera for the night cruise. Big mistake- not only did pictures come out crappy, but got lost and took me 1.5hrs. Took a taxi back for the night cruise of Darling Harbour. 5/30- took the Sydney Express bus, went up the Tower, took an Opera House tour, did the bridge climb, had dinner with Bridget (a friend of Daron's, one of my Fuqua classmates) and her roommates. 5/31- took the Blue Mountain day tour, ate schnitzel for lunch, went with my roommate Louis to Scubar to see the crab races. 6/1- went on the Hunter Valley wine tour. Walked around the Darling Harbour area and went to the Sydney Aquarium, which I really enjoyed.

Top of the Harbour Bridge, Sydney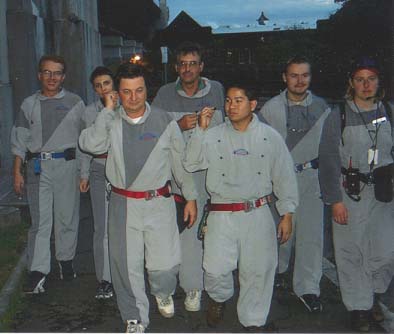 The "Armageddon" crew getting ready to save the world
The Rocks area

My new Aussie mate Bridgie
Paddington area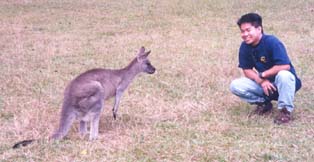 The Australian delicacy, meat pie, is extremely similar to one of my favorite Jamaican institutions, the beef patty. I have become a big fan, the pie is simply a different format. Like a good Jamaican, ignore utensils, turn pie upside down (top provides more support for weight of meat), and bite away.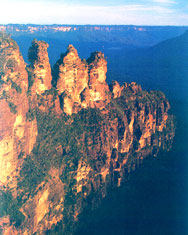 The Three Sisters
Blue Mountains I also did a night time harbour cruise, went up the AMP Tower, did a Hunter Valley wine region day tour (found it a bit boring by myself, but you 're pissed by noon), and the Sydney Aquarium (awesome!, very worthwhile), but those pics (along with the awesome Blue Mountains footage I would have had) either didn't come out or were stolen along with my camera out of a hostel in Cairns, I suspect by a traveling male French Canadian whom I will someday hunt down.


Note to other likeminded travelers- traveling Australia at this time of year is much different than Europe (apart from the winter/summer thing). For one, the toilet water spins the other way when you flush (everyone learned this from the Simpsons, and with the Aussie style of loo you actually can't tell). But seriously, in europe on the hosteling circuit I tend to find highly intelligent people with similar values doing a summer tour of many cities. Here, it is literally all British and Canadian 18-24 year-olds travel/"working" for 6-10 months. A very different dynamic. Seems like the inquisitiveness is turned down and the lack of focus is turned up way past the cute point. Or maybe I'm just getting older.

"Cairns is your gateway to some of the best scenery in Australia. From Cairns, you have easy access to tropical islands, reefs, rainforests, mountains and the wide open spaces of the far north. The Great Barrier Reef itself is one of nature's wonders of the World." I found this place to be very similar to Ft. Lauderdale, just less old people and more backpackers.
" THE GREAT BARRIER REEF- Australia's Great Barrier Reef is the largest complex of coral reefs and islands in the world, comprising 3,000 individual reefs and about 600 islands covering an area half the size of Texas. Stretching for more than 1,200 miles along Australia's Northeast coast, the reef is a UN World Heritage site, as breathtakingly beautiful as it is diverse. Under the stewardship of the Great Barrier Reef Marine Authority and the Queensland Government, it is an environmental wonder of international renown."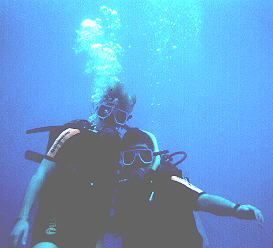 As far as you can tell this could be a pool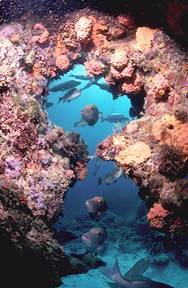 " Kuranda Scenic Train for a spectacular narrow gauge ride to charming Kuranda, famous for its markets. Travel into the towering rainforest on an amphibious army duck. Enjoy an Aussie barbeque lunch and an authentic aboriginal cultural performance under the canopy of the rainforest. Experience a "Dreamtime" walk with an aboriginal guide. Throw a boomerang! You will also see and touch Australian native animals including koalas and kangaroos."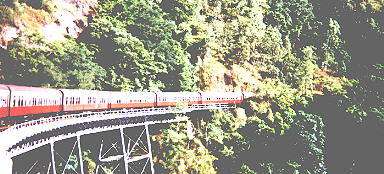 When I asked the caretaker what the hole was in the koala's throat area I found out that male koalas have a scent gland which they rub on things to mark. Yep, after seperating I could certainly smell a scent on my shirt. Visions of me walking down the street with female koalas flying out of office windows and the random eucalyptus tree came to mind. Hmmmn, at least maybe this stuff would work better than that Realm cologne. In a bar perhaps it would work on the human women by enhancing my cute and cuddly equities. I was later told that when you hold koalas they often "piddle" on you. I guess mine wasn't into that.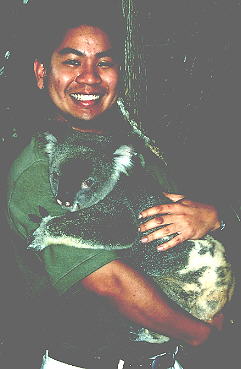 Hugging the koalas at Rainforestation On another note, Queensland is actually the only state where holding koalas hasn't been outlawed. Using classic sales techniques, I was told that it would probably be outlawed here too. So for only $A11 , I could beat the legislators. I suppose everything does have its price (for reference, rent the classic Demi Moore film "Indecent Proposal").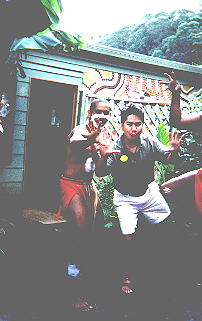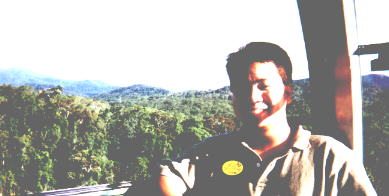 Me on the Skyrail 6/2- missed my flight, so had to rake an 11am through Brisbane and didn't get in until 5pm. Ate dinner with Elan, who used to be in the Israeli infantry, and then went to The Woolshed and The Bar, where I did karaoke with an English guy ("Patience"). He was dating a girl that looked like a hot looking Celine Dion. 6/3- noon dive trip on the Hitchhiker catameran. Was rainy but it cleared up for the ride out. I hung out with Robyn from Perth and went on the dive together. I ended up feeling seasick, and in fact it was choppy enough that our boat had to pick up passengers from other boats. Sucked that I had to skip the island party they were dropping lots of folks off for. Once back on shore I felt better and did a little shopping (including an awesome, foldable, waterproof hat that would prove invaluable in the Outback), met some folks form the boat Emma and Andy for dinner, ended up eating some KFC in a mnarket, and when I got back to the hostel discovered my camera had been stolen. 6/4- did the Kuranda tour. I threw the boomerang well, got a pic with a koala. Reported camera to the police. Ate spaghetti at Underdogs with two gorgeous Swedish girls, then went out drinking at Woodshed with one of my roommates and a Canadian and Brit girl. Saw some girls flashing. 6/5- went shopping for a new camera and bought a Canon Elph LT for A$155. Pretty pricey, but I ended up loving that camera and would buy 2 or 3 more of them before switching over to digital for my always on me camera.