Dave & Sonja's
Botswana Safari March 6-20, 2008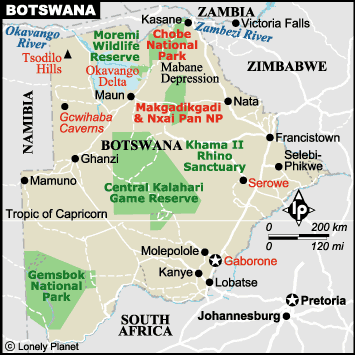 We had decided on this trip at least six months beforehand. I'd been thinking about Botswana for years, as a way to see Africa again, but in a completely different environment. After anticipating for months, the trip went quickly and it's hard to believe it is behind us now. Booked a modified version of this Tour- Delta, the Kalahari, and Beyond through
Natural Habitat Adventures
$6745 pp Picture credits
CSGA = from Camilla Shaw/Grant Atkinson, our guides
SLH = Sonja I also have to call out the book " Whatever you do, Don't run" by Peter Allison, a Bowswana safari guide. It was packed full of anecdotes and stories relevant to our trip, and I now recommend it to everyone and referred to it's stories throughout our trip. Laugh out loud and inspiring.
On the trip I was also still making my way through "Cry of the Kalahari."
Before the trip I had also bought National Geographic's " World's Last Great Places- Africa" on DVD and went to the IMAX to see a 3D fim on the Okavango.

Thursday 6th
Sonja- 3/5 US Air HNL to IAH 11:30pm to 1:55pm, $658 RT
Dave - Continental #1758 Austin to Houston 12:10 - 1:08pm $148 RT, plus Sonja one way $107 Air France (Delta freq flyer) Houston IAH 4:40pm through Paris, arrive JNB Fri 7th 9:30pm
75k miles each

After a hectic last few days at work for both of us, we are reunited at the Houston airport.
After buying socks I had forgot to pack, and a pretzel hot dog and fries, off we go.

Friday 7th

Crossing the Equator into the southern hemisphere, the second time we've done this together.

We finally arrive at the Southern Sun Airport Hotel
1160 ZAR (about $170)
6.85 ZAR (South African Rand) = $1

Saturday 8th
Air Botswana BP #212 JNB to Maun MUB 10:10am to 11:50am
$910 for both, RT Kalahari info

Cool that the airline gave this out- biltong. Essentially jerky, and in the Owens' book they mention eating it a lot.

Crazy camera woman taking pics of our first wildlife, a big cricket at airport After arriving in Maun we met our guides then would have to take another 30 minute flight.
Through the whole trip we would do five of these "hops" on little planes through air charter company Sefofane.


Our group: me, Sonja, Pat, Kathy, Audrey, Jesse, Shirley, Tom
And our guides Camilla and Grant
The four ladies are friends from volunteering at the Virginia Zoo and did a Botswana trip through Nat Hab in October of 2006. They also met Tom (urologist) and Jesse from Pennsylvania on that trip.
Audrey and Shirley are both grandmas, Kathy is close to retirement from the DoD, and Pat is a retired Air Force colonel (nurse).
6.09 BWP (pula) = $1
1 pula = .164 dollars "After arrival in Maun, you will be met by your guide Grant Atkinson and we will depart on a light aircraft transfer to a desert airstrip on the boundary of Central Kalahari Game Reserve. From here, we will game drive our way into the Deception Valley . This transfer drive has some highlights, the first being along the ancient shoreline of Lake Makgadigadi (which dried about 80000 years ago). Once through the Motswiri Entrance Gate, the last hour and a half drive is essentially a game drive to our campsite, reached by traveling over linear vegetated dunes and finally over a large vegetated dune and onto the sweeping vista of the desert valley floor. We will arrive in the late afternoon at camp, possibly driving out onto the valley for a sundowner. It is important to note that access is difficult to this national park; hence it is not often visited. For this reason, you should not see much vehicle traffic at all. In addition, it must be stressed that this is a wilderness area, and the movement of wildlife is dictated by nature and rainfall. We attempt to follow this amazing phenomenon, highlighting different aspects of desert ecology for you. This prehistoric riverbed, flanked by petrified dunes, is very appealing after brief rains, as it is covered with nutritious grasses that attract herds from all over the enormous reserve. These large congregations of desert wildlife are generally followed by predators into the broad riverbed, all of which makes for outstanding viewing. Deception Valley , within Central Kalahari Game Reserve, has been well documented in the book "Cry of the Kalahari" by Mark and Delia Owens who studied the brown hyena and desert ecology in the 1970's." The ride into camp was about from 2-6:30pm

We have to stop at this checkpoint where we clean our shoes and they spray the tires, precaution against hoof & mouth disease.

Water is key to everything out here

Cows, an important part of the Botswana culture and economy

Our first wild animal, the leopard tortoise
Lilac-breasted roller

A wild melon, an important source of water

Where the Owens' had their campsite during their research in the 70's. Right around the corner from our camp site.

Our staff of Power, John, and Doug. "The style and essence of Wilderness Safaris' Adventurer Exploration safari takes you back to the long-gone days of Africa 's exploration - the ultimate safari. Our 3m x3m dome tents, complete with verandas, allow you to feel more connected and open to the Earth and nature, accentuating the feeling of the wild and untamed. Pure cotton linen bedrolls (with duvets) on GI stretchers, bedside table with silver lantern and mini luggage benches add to the atmosphere. Shared separate shower 'bathrooms' with old-style tin bucket showers, basins and all amenities create simple serviced comfort. Behind each tent in an attached canvas enclosure will be an en suite short drop ash toilet and hand basins. Adventurer camping aims to bring the guest closer to nature, by means of lively campfires, hurricane lanterns, diverse activities and a warm atmosphere permeating the camp (and its simple comforts). Adventurer camps are specifically outfitted to create that camping feel with a clear emphasis on essential comforts and peerless wilderness experience."

We get the guided tour of our tents
The stretchers we slept on were VERY comfortable, and the ventilation and temp at night were great for sleeping.

Sonja is the first one to try out the bucket shower

Our "drop toilet"

Our guides booze it up- just kidding

Dinner was beef stew over rice, with carrots and broccoli. We went to bed around 9pm before the desert of chocolate pancakes.

"Our 3 nights spent in this area of the valley will be in search of the myriad migrant bird species, interesting reptile and plant life and of course ascertaining the recent game movements of the desert to locate some of the big game. The famous black maned Kalahari lion resides in this area, as well as healthy populations of cheetah. Excellent opportunity exists for great game viewing in this area over this time and will definitely be a game viewing highlight. On March 9 & 10 we enjoy extended wildlife game drives (with picnic lunch), taking in the game-rich Pipers Pans area of the Kalahari, as well as the Letiahau and Deception Valleys ."