Dave's
Rio & Buenos Aires Thanksgiving Trip
November 19-28, 2004

So at work we have some website that lists companies we get employee discounts with. While checking it for the first time early in 2004, I of course looked up the travel section and spotted All Singles Travel, where we would get a 5% discount. Scrolling through their trips, what really caught my eye was Rio/BA over Thansgiving. Thanksgiving would only require me to take three vacation days from work, and it seemed like good timing since I go home a month later for Christmas anyway. Rio- always wanted to go there, and although I travel alot by myself, knew if I did go by myslef I would limit my activity to where I would be missing most of the nightlife. So here was a built in group to travel with.
By time this trip actually came around it almost felt like I was checking the blocks, but it turned out to be a really terrific time.
Oh yeah, I also had to fly in and our of Dallas (vs Austin), so of course I almost missed my flight. Par the course. . Friday Nov. 19th, Depart Home City
Saturday Nov. 20th, Arrive Rio PRAIA IPANEMA HOTEL "Morning arrival in Rio de Janeiro and transfer to your hotel, a superior, first class, beach front hotel on chic Ipanema Beach. Morning at leisure to rest after your long flight, with lunch on your own. At 2:00 pm we will assemble for a welcome cocktail and an eye-popping jewelry fashion show. Then depart for a tour of The Marvelous City. Drive along famed Ipanema and Copacabana beach sections, where the sun, the sand and the chic cariocas vie for the attention of the international traveler. Arrive at Praia Vermelia, where you begin the two-stage ascent by cable car to the top of Sugar Loaf Mountain for a breath-taking panorama of Guanabara Bay, Rio and her sister city, Niteroi, across the bay. You will be able to take stunning sunset photos of this picturesque city." One of my initial concerns was the timing of my arrival. I was coming in seperate from the group, having booked an American ticket using the last of my Alaska frequent flyer miles, and at only 40k points a real good value. However I was arriving at 1:30 at the airport, and the group was scheduled to head out on tour around 2, so I was hoping not to miss the whole first day of bonding w the group. Luck was with me- I hustled, made it to the hotel around 2:15, and ran into our tour organizer Eric at the front desk- so I was caught up.

View to the left from our balcony- Ipanema Beach towards Copacabana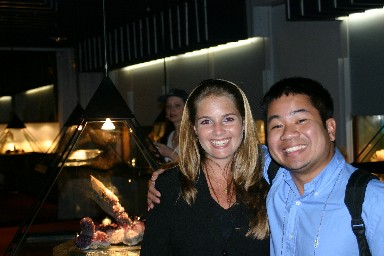 So this was supposed to be a shot of me with my first "real" Carioca (what folks from Rio call themselves)
It is really just the H. Stern salesperson responsible for herding our tour group through their facilities to get us to buy jewelry. I felt that they were similar to pharmaceutical sales reps in the states.

Where Jaws and Roger Moore fought in "Moonraker"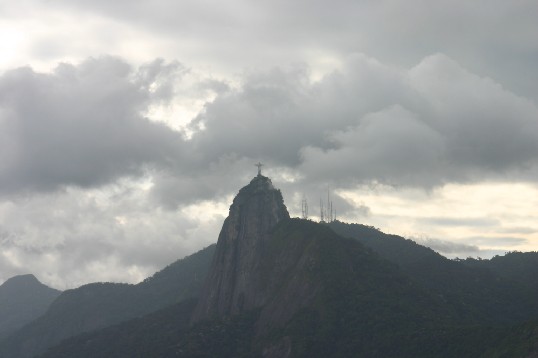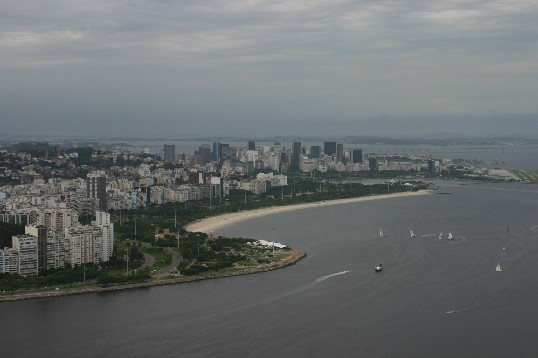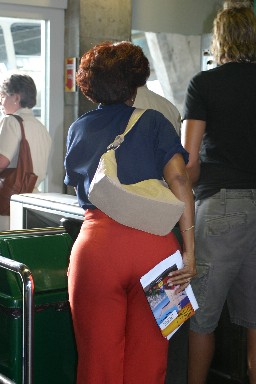 Our Rio tour guide Christina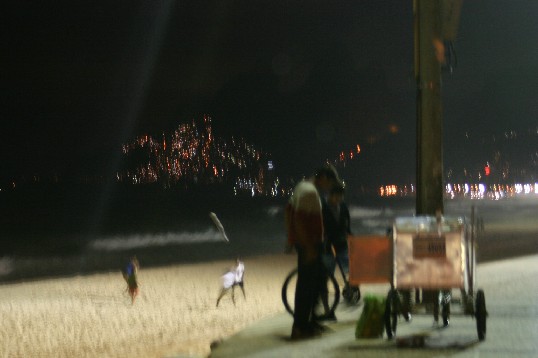 Nightlife along Ipanema, walking to hotel after our seafood dinner at a restaurant on the beach
My first "native moment of the day" was here, where after two hours I had bonded enough with the waitstaff to trade hugs on the way out.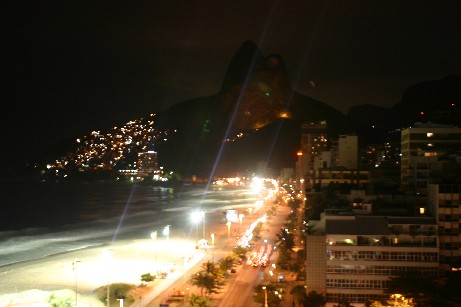 Around 10:30 at night, Mark and I decide heck, this is Saturday night in Rio, let's go explore. So we take a cab over to Copacabana where the night market is in full swing and we buy some souveniers. I can't believe I didn't capture a picture of it, but in front of the main night clubs people dressed up getting out of cars, and on the sidewalk lots of girls looking to hook up with the white business men to make some cash for the night. We ended up eating a Big Bob burger and coming back home having not even entered a club. I can't really say I've experienced the true, crazy Rio nightlife, but I guess sometimes it doesn't really matter. Some of our group spent that night at a club giving Samba lessons, which would have been a must do had we known about it.

Sunday Nov. 21, Corcovado Tour
"Buffet breakfast included at the hotel and morning at leisure to enjoy Rio's beaches and many shops. Afternoon departure to Rio's highest mountain, Corcovado, crowned by the famous statue of Christ the Redeemer, its arms outstretched high above the city. Enjoy the exceptional views and then continue via the scenic route through the Tijuca rain forest, luxuriant with tropical vegetation and waterfalls."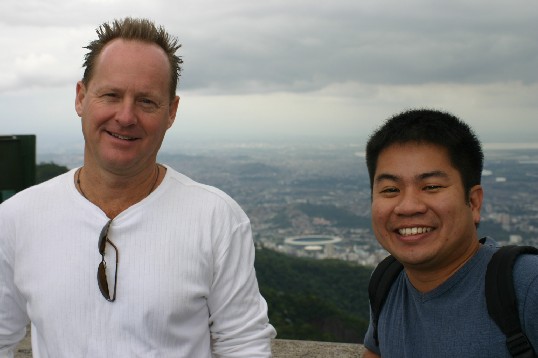 My roommate Mark and I at the top of Corcavado, with Maracana Stadium in the background.
He is a realtor that lives in the Ft. Lauderdale area where I grew up, small world.

Sugarloaf and the city from Corcavado

Vikki and I splitting a coconut water on Pepino beach
This is where the hang gliders land and we were arranging for the next day. I remember getting coconut water as a kid in Jamaica and thoroughly enjoying it- and now still do. It was tasty, cold, and all of 60 cents. However, coconut itself has been known to bother my stomach, and I remember thinking we were really walking a fine line between the fun of putting ourselves out there/quality alone time on the toilet with all the various things were ingesting that day.
Luckily all worked out for the best. So here we are at Maracana Stadium, the largest futbol (soccer) venue in the world. At one point held two hundred thousand people.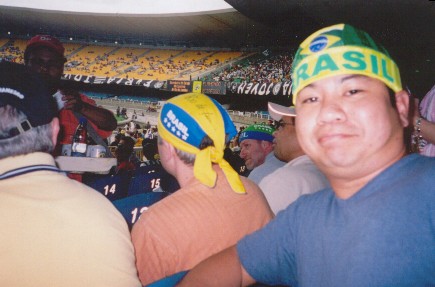 My next "native moment" where Christina said I looked like a real Carioca with my new do-rag
So we chose to primarily root for Botafogo, as their fans seemed to have alot more spirit going on, although their team did seem less skilled than Flamengo. Regardless, we got a real soccer experience- game ended tied 0-0.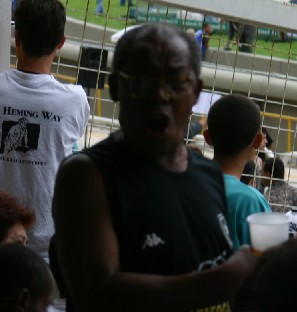 A Botafogo fan in action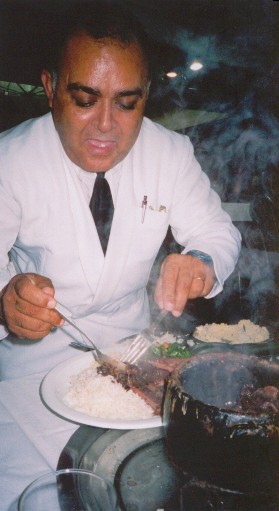 At a restaurant on Copacabana, waiter about to serve Vikki and I (with Mark and Zack- apparently she got to monopolize all the men this night) the native Brazilian dish of feijoada- which is, according to Lonely Planet "black beans slowly cooked with a great variety of meat, seasoned with salt, garlic, onion, and oil. The stew is accompanied by white rice and finely shredded kale, then tossed with croutons, fried manioc flour, and pieces of orange."
Of course we would also have the local beer, Antarctica, and the national drink- the caipirinha (lime, sugar, crushed ice, and cachaca- "a high proof (40% or so) dirt-cheap cane spirit drunk throughout the country). I would sometimes have a hard time downing these, as at one place I managed to scoop what amounted to two whole limes out of the thing. After dinner we would walk the Copacabana market, and wind up with drinks at the Garota de Ipanema, where Tom Jobim wrote his famous bossa nova song you hear here on this web page.