Dave's Virgin Islands - 2005
September 3-11, 2005
"Please don't say manana if you don't mean it
I have heard your lines for so very long
Don't try to describe the scenery if you've never seen it
Don't ever forget that you just may wind up in my song."

After reading a newspaper article I got it in my head that I should go back to the Virgin Islands on a sailboat. Getting friends together to charter a boat likely wasn't going to happen, and I initially was looking at the boat from the article, the Arabella. There was a big singles supplement though, and the December dates were bad timing for Christmas. Luckily through web research I ran into Windjammer cruises, and decided on a singles cruise with a good BVI itinerary aboard the Mandalay for $965.
Got a convenient flight via Delta FF 30k miles as well.

"Leave your earthly worries on terra firma and let Windjammer guide you through the kingdom of laid-back. The balmy and breezy British Virgins are a collection of reefs, green hilly islands, and coconut cays that encircle the Sir Francis Drake Channel. Our shipmates are privy to some of best cruising conditions and panoramic vistas in the Caribbean. S.V. Mandalay drops anchor at more deserted beaches than any other ship in the fleet. Youíll find warm, turquoise seas and healthy coral reefs teeming with exotic fish and marine life. From sun-up to sundown, shipmates can swim, snorkel and sunbathe to their heartsí content. The BVIs have all the barefoot necessities: hiking paths that lead to gorgeous beaches, killer sunsets, and beachfront pubs. Not to mention, daytime temps are a delightful 82 degrees year round. Thereís a civilized charm about the place thanks to those quirky Limeys. Just be sure to set your watch back to island-time because life here unfolds at a snailís pace."
Saturday the 3rd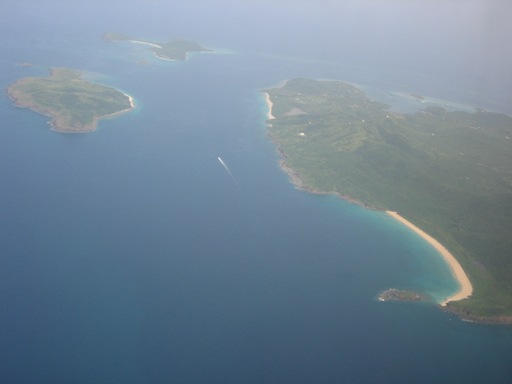 Took the shuttle over to Red Hook


Then the ferry over to Cruz Bay, St. John


Where I then hopped on Mr. Frett's regularly scheduled ride out to Maho- quite windy and bumpy, a good deal for only $8

So I had booked at Maho Bay Camps tent #23A for $56. It was a unique eco-camp based on the beautiful north shore, and it was recently featured on the show " Travel Spies"- I even got to meet the manager they had interviewed on the show.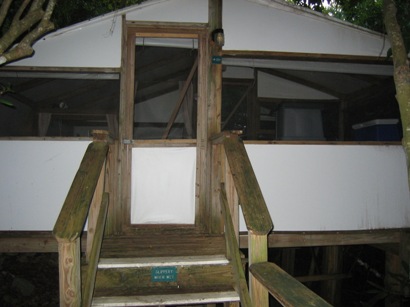 Anyone staying here should be sure to bring lots of bug juice for dawn and dusk (during the night they weren't really a bother) and flashlights, as there are lots of stairs and the place is pitch black. I also made the mistake of going on a swim and then not going to dinner until after 7, when the restaurant was now closed. The store was still open until 7:30, so I was about to buy some vienna sausages and chili when I found out there was a regularly scheduled taxi at 8, so I held out for that to get a hot meal in town. There was a group of four twenty-somethings that were heading out on the taxi as well, and it was great fun to hang out and they really made my stay on St. John.
As will all trips, it basically boils down to the people.

Dinner at Cruz Bay with new friends Levi (in the Coast Guard based out of Puerto Rico), Jeremy (a pilot for new airline Carib Sun, based out of PR), Brigit (Jeremy's girlfriend), and Allison (friends with Brigit since pre-school, lives in Chicago but travels international ALOT for work)
Keepers of the chol, guardians of the top shelf. I guess the commute, heat, and alcohol started to get one or two folks kind of moody, so we headed back to camp. Along the way one of the songs we got to singing was a Styx classic, and we got yelled at for making too much noise back at the tents since quiet time started after 10pm.
Click here to play "Mr. Roboto"