May 13-16, 2005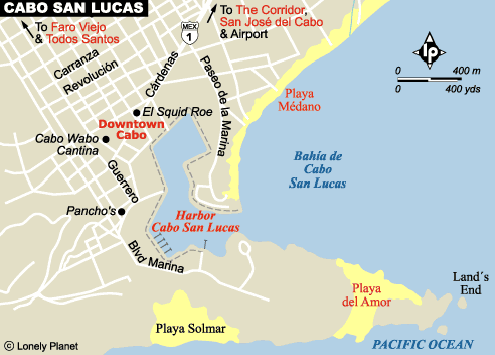 So continuing my philosophy of doing a long weekend at a different spot in Mexico every year, I was looking at either Puerto Villarta or San Miguel de Allende for Memorial Day weekend. Nancy expressed interest in going as long as it was a beach vacation, and then Tracy and Dave were looking at a vacation too. So we got together one weekend and chose the Sheraton in Cabo. We were all close at Duke and are best friends here, so it was pretty similar to what we normally do together on weekends anyway, except this time at an expensive hotel on a beach in Mexico, and less TV.
Probably 60% of the time I travel on my own. It's good that that forces you to meet many new people and your decisions are your own, but it was a welcome change to not always be trying to keep yourself busy and having people that care about you around.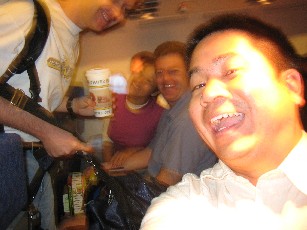 On our first flight they happen to put Dave and Dave next to each other, like the Russia trip

Waiting at the airport

Cinco mas cervesas por favor
We pick up the rental car We stopped in San Jose Del Cabo on the way to the hotel to eat lunch at a nice Mexican place. Only gringos eating there but still muy authentico I'm sure. Throughout the trip basically every meal with one drink would end up being about $12-15 per person.
After checking in we would also make a run to the local Costco, whose mention in several Tripadvisor reports apparently sucked us in. Two lots of bottled water, one of canned Coke, cheese flavored Ruffles, puffed Cheetos, bottle of Bacardi rum, container of doughnuts, container of chocolate things.

My typical view as we drove around- from the middle back seat, often in most civilized cultures given to the person of most importance, or so I've been told...

We arrive! When we were choosing the hotel we narrowed it down between the Westin and the Sheraton. Funny enough I would soon find out the one of the sales incentive trips at work had our sales people in Cabo part of the same time we were there, AND staying at the Westin. Small world.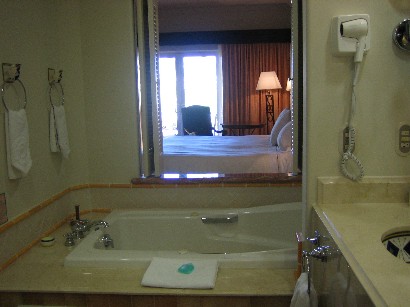 View from the bathroom- jacuzzi tub (which I ended up not using), through the shutters to the bedroom. Shower big enough to hold 3 or 4 people.

Outside my room
I was right by the newest pool which even had a swim up bar, but it wasn't right next to the ocean like the other three pools. With the Expedia package we picked I figure I paid about $200/night for my room. The beauty of having a good woman along: room cost could have been cut in half, making it a non-issue at $100 each (obviously assuming splitting the cost- never assume). Also Nancy and Tracy got Starwood credit cards and got ocean view rooms for about $140. I just didn't have the energy to go through with the process.

Dinner at the Crazy Iguana , then we hit...
El Squid Roe

They got the crowd going with good late '80s early '90s dance music for us old folks, and this guy did a great job MC'ing. They even actually had a great girl to guy ratio there too, impressive.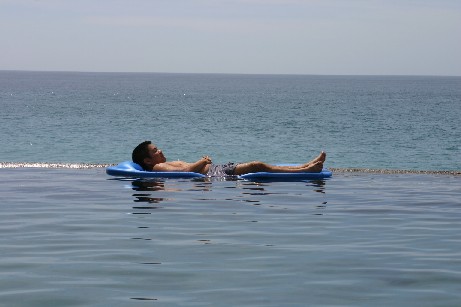 Livin' on the edge Food at the hotel restaurants seemed really expensive ($24 for a BLT) unless you had a timeshare voucher, so we went to town for lunch. Ended up eating Mexican at a place by the marina, then took a quick look at the craft market.

Cabo Wabo, after dinner at the Italian place across from Squid Roe.
Was a good place for live music and rock. Regret that I didn't get to try the signature Waborita.

Giggling Marlin
An MC tried to get the crowd going with risque activity, but it wasn't great our night. So we end up closing out the hours back at Squid Roe.

Another stressful day of waking up late in the morning, sitting in the infiniti pool for an hour or two, and then heading into Cabo San Lucas for lunch. Mi Casa was recommended in our research but wasn't open for lunch, so we ate at La Quesadilla- and funny enough we got quesadillas. They were just OK, but the $3 nacho appetizer was terrific. A tourism/time share guy started talking to us here, and so we got hooked up for a $35 parasail, which also sucked up all the cash our entire group had remaining on us. So a long walk to the end of the huge marina later...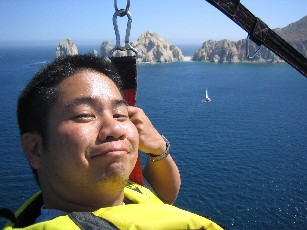 My first parasail

My sought after classic Cabo shot of El Arco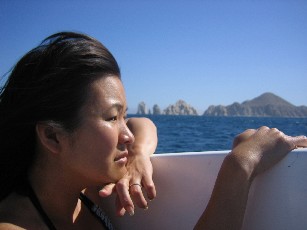 Tracy is the only person I know who gets motion sick more easily than I do. I wasn't feeling great, but she was worse off- doing the counting the minutes 'til back to shore exercise. So for the record- although it was to act as a distraction, my singing was REQUESTED. Yep, I was born to be a rock star. Our last night we ate at Houlihans- yes American Bennigan's type food, but it was a needed break from the same Mexican menus. Food was good with great service- we were also literally the only people there. Then we simply went home for a good night's sleep.

I was out to hit the pools by 8am. You really get the whole place to yourself that early.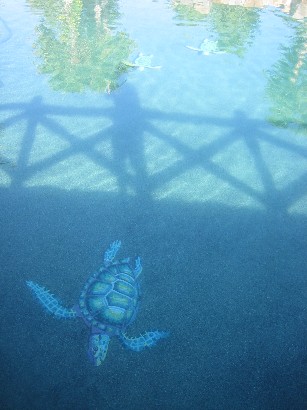 After the awesome sit down breakfast buffet at the hotel, right before I leave for the airport
Here you also see my " Brett Michaels cool guy hat" which I had been searching for for the last few years.
I think I look hot in it.

Info:
Tripadvisor- Cabo San Lucas
Tripadvisor- Sheraton reviews
Official Tourism Website
Articles:
Men's Journal July '04- Vince Vaughn's Cabo
Bridal Guide
Spa Magazine
Brentwood Magazine
Star Tribune