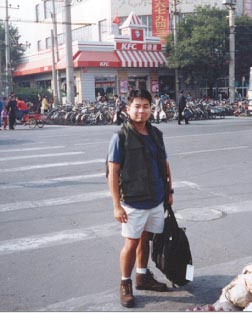 First arrival and civilization is evident already
Note the plethora of bikes outside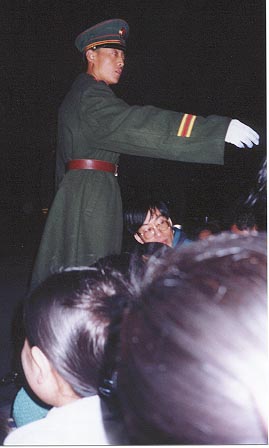 Sunrise for the flag raising ceremony, Tiananmen Square
Getting up at 5am and freezing my butt off to watch a stupid tourist ceremony among a crowd of people that I couldn't communicate with seemed like an error on my part. With a little patience, the insights I gained were well worth the lost sleep and discomfort. After the crowd gathered the soldiers paced around us and forced everyone in the front row to sit down. Soon after, they moved the ropes holding us back out into the crowd about a further 6 inches. For what purpose? And why wasn't it fine already considering that this is a ceremony done everyday? Answer- intimidation by the state, let's make sure everyone knows who's in charge. An officer would even pace- looking around the crowd- and seemingly at random pick someone in the audience to point and yell at. He would then cross over the ropes to go after them (so of course yours truly snaps a picture of all this and hopes for the best). Nothing like making an example. Then they forced the second row of people down to the cold ground. When I figured out what was going on I thought, "Yeah!" It was fascinating to get a small taste of how an old oppressive regime might have operated back in the day, although now judging by the souveniers I bought from street vendors and the Nike business cases I've studied (Dell even has a factory in country) free enterprise is again winning the day.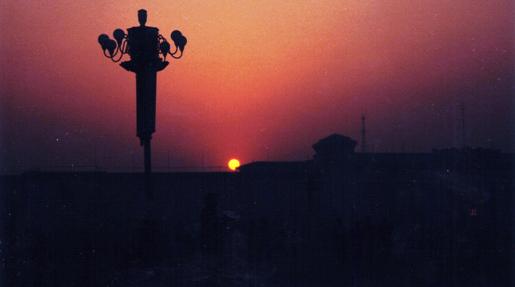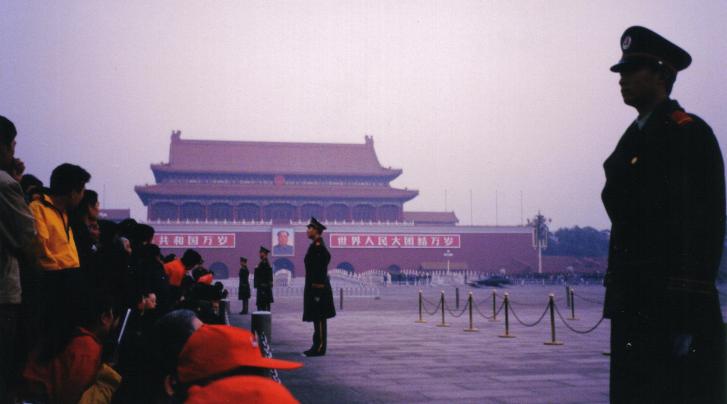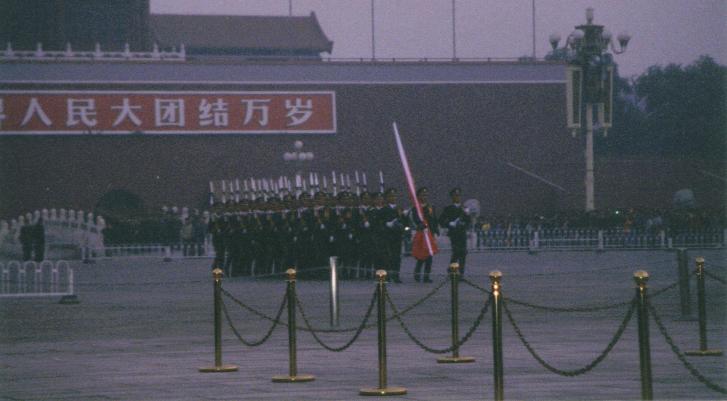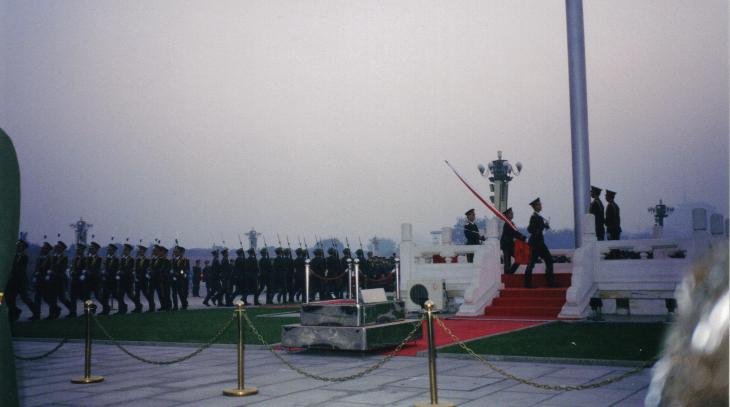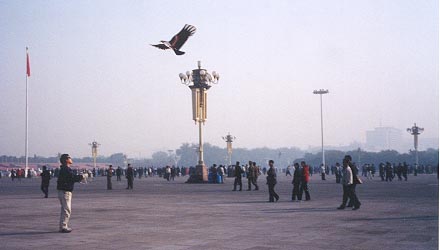 "Hey, look out for that tank!"

Me and Mao

I am not a Mao fan, I just like tourist kitsch stuff (hence my $2 Mao t-shirt which appears later).
While he must have had extraordinary leadership skills to sway a billion people, he at one point endorsed a possible nuclear exchange and had other near-sighted plans that led to the deaths of tens of millions and China's isolationism and backward communist ideals.
I imagine still not as bad as Stalin though.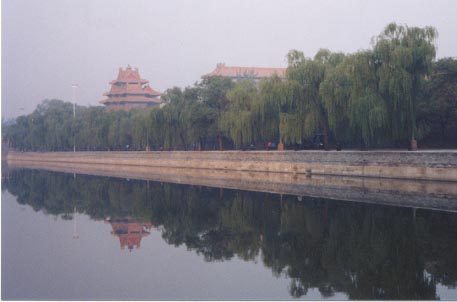 Forbidden City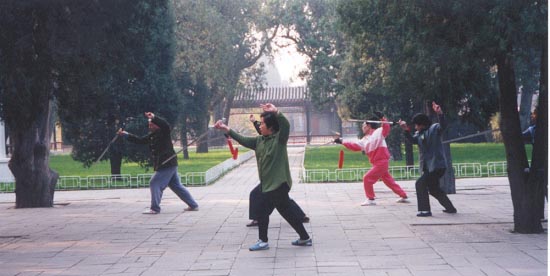 Shakespeare in the park, or training to keep your spouse in line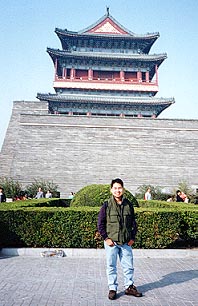 By Qianmen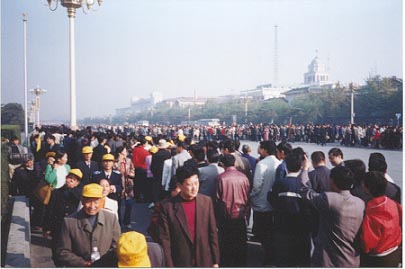 The horrendous tourist crowd waiting to be paraded through the "Maoseleum"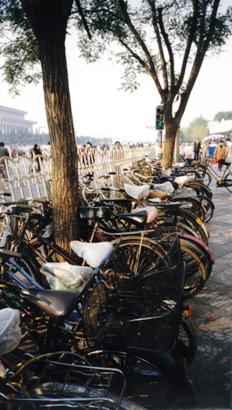 So I was supposed to do this trip with Rich Fernandez, one of my best friends from high school, who was already in this area of the world teaching English in Japan. He ended up getting delayed on his way back in from Mongolia, had recently met th girl below on the internet, and relayed a message to her to give to me. Yes, I was quite surprised to arrive in China and be receiving messages from strange people. Very resourceful of Rich though, as it could have really thrown our trip off without that communication. I wonder what Linda is up to now? Hindsight is 20/20, and I'm not sure I even bought her dinner or anything to thank her, now on my list of regrets.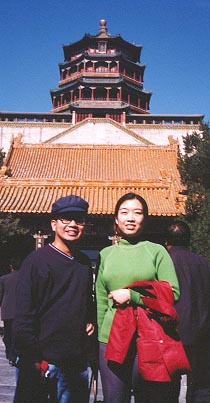 My personal guide Linda and I
Buddhist Virtue Temple in the background, Summer Palace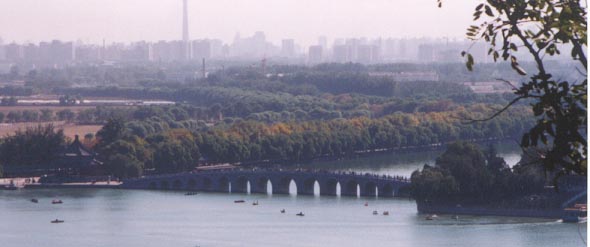 17-arch Bridge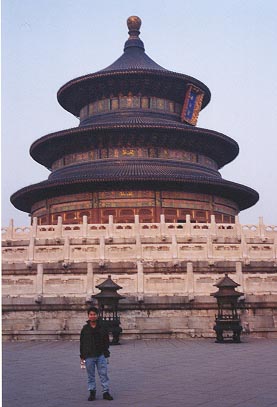 Temple of Heaven, Tiantan Park
"A man should live if only to satisfy his curiosity."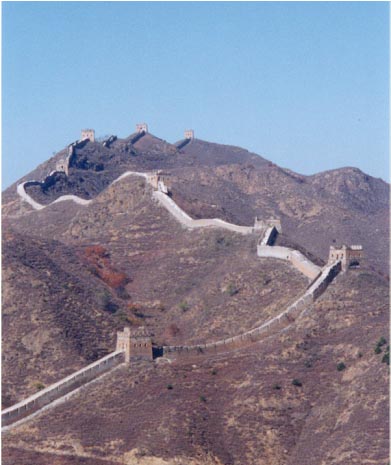 Great Wall at Simatai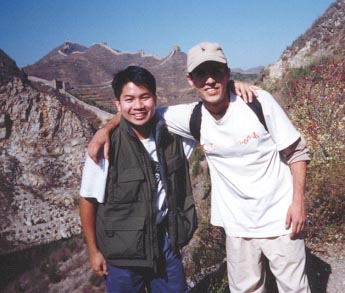 From this angle it's probably hard for you to appreciate how steep the climb up the wall was. Let me tell you, at the time it was very hard for me to as well.
Advice- spend the $3 to take the relaxing sky tram up so you can walk back down and have gravity work for you, not against.

Comparing size on the wall with our new Swiss friend Tonya
Note that although my camera (the silver one on the left) appears to be the smallest, size can be deceptive, as it is the best performer of the bunch-
blowing the others away with a 160mm zoom.
"Sour, sweet, bitter, pungent, all must be tasted."