Havana
The world famous Tropicana Club for the night's entertainment (I think Ricky Ricardo was supposed to have been band leader here)
One observation is that our cuba libres (rum & cokes) were served with "Tropicola," as Coke and Pepsi are American companies that aren't supposed to be here. Literally THE first country I've been to without Coke and Pepsi signs posted everywhere. Can't wait to cut loose on this place with some good old fashioned American consumer goods! Anyway, I did find two spots serving American sodas, they are brought in from Mexico.


I figured maybe there are a few classic cars around- NO, they really are everywhere! Feels like you're in some sort of hispanic "American Graffiti." This is a common site, a classic pulled over to do some sort of on the fly repair.

The old man and the sea
So as a tourist it is common practice to get ripped off, half the time without you even knowing. Well after taking a few pics of this guy we started talking, and he even showed me pics of his family. He gave me a little sea shell, and I could feel the big pitch coming on. He pulled out a coin with Che Guevara on it and tried to give it too me, but I turned it down. He looked hurt, so I recanted and gave him a dollar for it, plus one Cuban coin (a quarter) I had on me. My bus then came so we had to part ways. Later that day I come to find out it is a three peso coin, so I inadvertantly ripped off this kind native! Life is funny sometimes.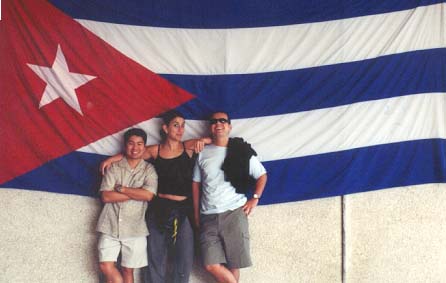 Hangin' with new friends from Chile Monica and Rodrego
Funny enough Rodrigo does brand management for Unilever (he's in the haircare category, not nearly as sexy as soap) in Santiago
Entrance to where I stayed, Hotel Riviera

December 27

View of Habana from the Castillo de los Tres Santos Reyes del Morro

Bought some Cuban cigars here- the same ones that were Castro's favorites before he quit smoking - Corona Grande Montecristo and Cohiba Esplendidos

Catedral de San Cristobal de la Habana

Took a break here for a mojito- Cafe de O'Reilly

What do I think of Cuba? Awesome. I grew up loving the whole feel and concept of Key West. Well, I would describe Havana and Cuba as more Key West than Key West. Friendly people, beautiful beaches, tropical breezes, exotic drinks, a feeling of rebellion, music wafting down streets...

Statue of Christopher Columbus, courtyard of the Museo de la Ciudad

Ernesto "Che" Guevara mural- "Hasta la Victoria Siempre"
Ministry of the Interior building

Memorial Jose Marti
Plaza de la Revolucion area

Monumento a Calixto Garcia

"Dear Imperialists: We are not the least bit afraid of you!"

So what's the deal with the US and Cuba? info
American travel in Cuba? info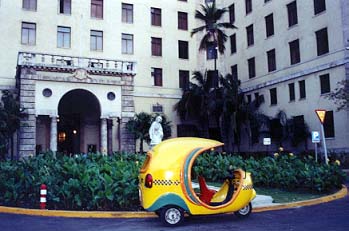 Nacional de Cuba Hotel

The traditional 9pm firing of the cannon signifying the closing of the city, now of course a tourist event
Was tired beyond belief and thought it was going to pour on me, but of course I had to go see them fire the cannon... info

CONTINUE