Christie & Dave's

Trip
December 27-30, 2004
Bon bini!

Monday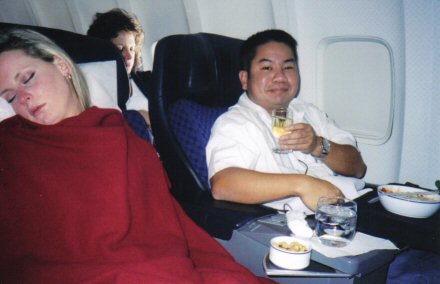 Dave pouring on the charm


Got us upgraded to first class- seats in the front row. I had some wine and watched, funny enough, "50 First Dates" was the film showing. Christie pretty much sacked out the whole time, understandably tired from getting up Sunday for a 6:30am flight, missing it so later arriving in Orlando at 11pm, then getting back up at 3am to catch the shuttle to get into Ft.Lauderdale at 7am. A friend indeed, and considering all the airline problems that day I'd say she was "meant" to come along.

On the Queen Emma Pontoon Bridge
A constant element throughout our trip was the little Toyota rental car we had.
Car anecdote #1- As we were leaving the airport to try and find the hotel I said, "I wonder what the learning curve here will be like," then promptly drove us through a tour of the parking lot instead of the exit. All good though- using my ingrained island charm, in addition to the parking toll collector having sympathy for stupid tourists, we were there fairly directly after that.
It was actually good to wonder, and Christie was a terrific co-pilot.

Views from our restaurant at Fort Nassau

Food was excellent- we split the mustard soup, C had the salmon, and D had the sole.
Also a first minor run-in with the native Curacaoan mosquito and/or biting fly.

We spent the rest of the evening sitting at an outdoor cafe on the banks of the river with an Amstel Light (the only beer made from desalinated ocean water, giving its unique taste) people watching, seeing ships come and go, and the bridge moving back and forth to accomodate them. "Forget the squat resorts muscling each other along the coast and don't be put off by the disjointed shambles of badly signed roads: Willemstad is gorgeous. The capital of the Netherlands Antilles and one of a select number of urban areas on UNESCO's World Heritage List, it's divided in two by capacious St Anna Bay, the largest harbor in the Caribbean. Punda, to the east, and Otrobanda, to the west, are connected by a quaint pontoon bridge known as the Swinging Old Lady - she cocks a leg for boats.Punda is the oldest part of the city, crowded with 17th- and 18th-century Dutch-style buildings. Head west and across the channel to Otrobanda ('other side'). Otrabanda became Willemstad's first suburb in the late 17th century, when lepers and convicts banished from Punda began moving here. The area's low-rise architecture is the result of an 18th century order not to obstruct Fort Amsterdam's line of fire. Most of the city's historic buildings are in Otrobanda, including the 1734 St Anna Basilica, the oldest in the Antilles. The Riffort, a defensive post on the entrance to the sea, has been used as a telegraph station, radio station, desalination plant, WWII officers' digs, scout hall and is now partly occupied by a ritzy restaurant.Otrabanda's charm extends beyond its brochure-ready buildings. The maze of streets and lanes wiggling back from the waterfront are fun to wander - stores and houses run the gamut from pastel and spruce to crumbling and spooky. Also, much of the advertising and store signage is hand painted, giving the streets perky, individual characters."

Tuesday
In the morning we had a leisurely breakfast by the water (split a tasty mango smoothie, toasted ham & cheese for C, egg salad w bacon and also french fries for D). We were originally going to eat at the Havana Cafe connected to our hotel, but the owner was just rolling in after 9am, slightly missing his targeted 7:30 start time. Afterwards Christie found quite a few pieces of jewelry before we hopped on the trolley tour.

"So just why are the buildings in Willemstad so colorful? Blame it on headaches!
In 1817, after being plagued by recurring headaches, which he blamed on the glare of white houses, Governor-general Albert Kikkert passed a law that pastel colors must be used on all buildings - hence the color explosion throughout Willemstad."

Here is our hotel, the Howard Johnson. We were originally given a room with a view of the parking lot, but on the plus side it had a bidet and a very cozy looking king bed. Minutes later we were for some reason in a room with a terrific view, but no bidet and what I would consider to be less cozy double beds.
Speaking of learning curves- we had to request towels, an iron, an outlet adaptor, an iron that would work, and somehow both drenched ourselves trying to figure out how the shower worked so C could wash her feet.
If I had it to do over, knowing that it wasn't just me, something like the Hilton or Marriott would have provided more options at night, a nice pool, etc.
We wanted to pick up a few Dutch words, and I certainly wanted to avoid busting out Spanish, a habit from basically all of my trips for the last two years being to Spanish speaking countries. But we swear we kept hearing Spanish words, and it turns out everyone here learns FOUR languages: Dutch, Papiamente, English, and Spanish. So we pretty much got by on three Dutch words: thanks (danke), thanks sweetie (danke dooshie), and sale.
Car anecdote #2- in the three days I was home for Christmas in Ft. Lauderdale all I could do was roll my eyes at the constant bickering whenever my parents would drive somewhere. My dad was always hot, and my mom constantly cold. "He must be going through menopause" was one quip.
Let me tell you, Curacao was warm and humid. Nothing bad, but warm nonetheless. In fact the AC temperature knob didn't even have heat as an option- just a blue line, no red. Now I've been out in scrub woodlands for days at a time in Heat Cat 5 conditions in a chemical suit wearing 50 pounds of equipment, where if grown men weren't passing out, it would at least dehydrate you enough to feel like you were giving birth when going to the bathroom. So that being said, I was on vacation, dammit.
Driving around in our little Toyota, the engine couldn't be on more than 5 minutes without Christie turning off the AC, and cracking her window about 2 inches to compensate. This as I would be desperately trying to get air flow to my pits and keep the sweat from my brow from dripping into my eyes and running us off the road. How is it that I was the Jamaican who grew up in South Florida and she the person who has never lived anywhere but Idaho? Odd.

At Blauwbaai (Blue Bay) beach

Daaibooi beach

We discover Playa Kalki

A wonderful dinner at Belle Terrace in the Avila Beach Hotel
What you see on my plate is the local dish, Keshi Yena- originally a whole, round dutch Gouda cheese stuffed with ground meat, olives, unions, prunes, herbs and spices.
We also split the cold garlic soup, C had the tuna steak, and we got a free bottle of wine. Finished off with mojitos to the sound of gentle waves coming into the white sand bay. Almost a perfect day.