DAVE'S EUROPEAN VACATION I
JUNE 12 - AUGUST 4, 1992
A Retrospective

So while I spent the summer after my freshman year working back at home, having a great time with friends from high school, and taking lots of classes at BCC and FAU, and knowing I would have to be at Ft. Bragg after my junior year, what better way to spend this summer than going abroad? I remember picking the London program as a no-brainer since I was too lazy to want to deal with a different language. There were also $1000 scholarships offered to off-set the cost, and for reasons unknown to me now I was cocksure I would get one- and I did. Came in on British Airways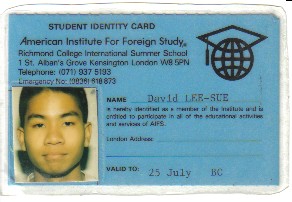 Week 1 One of the first things we would do as a group- city tour

My roommate Ed and I by the London Bridge

At the Tower of London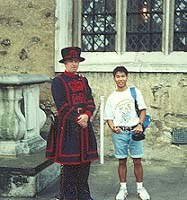 No vegetarians here This day my new friend from Louisiana, Alissa, and I would spend the afternoon at Hyde Park/Kensington Gardens, an easy walk from our dorm. Throughout this trip I would always love hanging out here.
Part of the beauty of this trip, and the only time I've gotten to do this so far, is I LIVED there. So I could spend an afternoon simply sitting around a park with the natives. Awesome.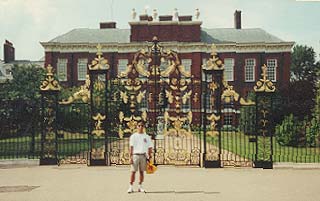 Going to a "meeting" with Di
Kensington Palace Classes for session B:
Museums & Galleries II- T, Th, F 2-5pm
Literary London II- T, Th 11-1pm, W 12-1pm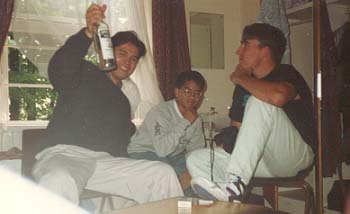 Ahhh yes, the thrill of underage drinking with the roommates (Billy, Dave, & Ed)
Our Dorm Room, Kensington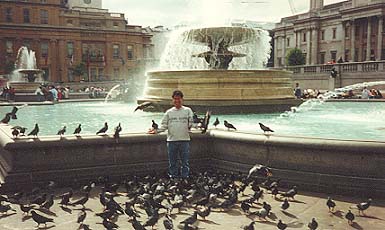 Holy birdshit Batman!
Trafalgar Square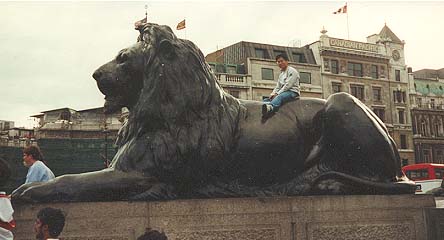 Showing the proper respect for native culture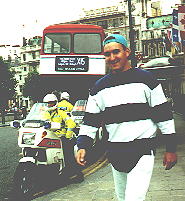 Ed, cool motorcycle Bobbies, and a double decker bus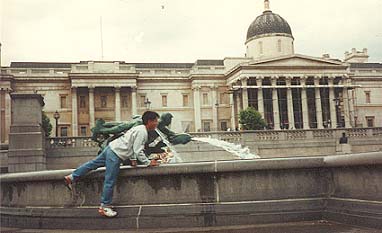 Dave does a Linda Blair Tuesday night the 16th we'd see "The Reduced Shakespeare Company" - a three man outfit that blended all of Shakespeare's work in a really funny manner.
Wednesday night we would all attend a buffet reception with the Mayor of Kensington's put on by the president and board of Richmond College.
Thursday we went to the Anthony d'Offay Gallery- showing ANSELM KIEFER's The Women of the Revolution
Friday The Kenwood House.

Alissa and I take our first double decker bus ride


I believe they are now in the process of phasing these out, so we'll lose a classic

The gang at the local pub
Builders Arms

Closing time
Note how light it still is at around 11pm

Friday 19th - Sunday 21st
Dublin, Ireland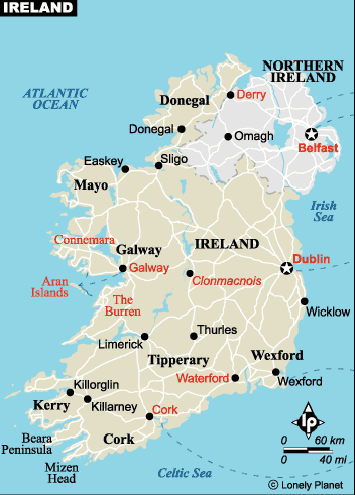 I guess even on this first trip I was somewhat the planner. Having been in England for all of one week, I decided to go to Ireland that first weekend and asked a few people to go. Natural leader that I am, next thing you know there are over ten of us going. Terrific So my deal was the movie Far & Away had come out that summer and I loved it, so I had to go get my Irish experience. Well, I am actually still waiting on it since that would really be western Ireland and all we really saw was Dublin. My recollection is a fairly chilly, windy, dirty city, with lots of young people milling about due to the high unemployment rate at the time. We take British Rail and the overnight Sealink ferry

We wondered around the city that day, then stayed at the Elmar Bed & Breakfast, which has likely closed since then.
At one point I had left my camera on a city bus, found out where the bus had likely gone, and being in good shape thought nothing of running about two miles through the city to the depot. Got my camera back : )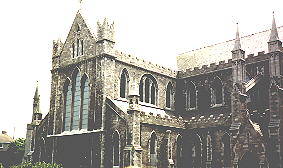 St. Patrick's Cathedral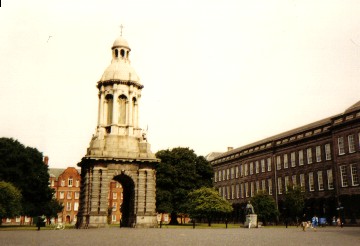 I also visited Trinity College and bought a sweat shirt there The next day we explored some areas on the outskirts of the city, including a seaside area. By the afternoon I guess I was pretty tired of everyone and broke off from the group to wonder on my own. I remember wondering through a neighborhood and getting lost. I would ask a lady walking by for directions and she actually went in the opposite direction of her travel to show me where to go. I would end up repeating this story several times over the years along with my proclamation that the Irish were the friendliest people I have met.
Making my way back into town I also stopped at a neighborhood pub, where you could see the Sunday evening crowd that has probably known each other for generations in general celebration. I did feel a little out of place, but the bartender searched around to fulfill my request to find me a bottle of Guinness (they had plenty on draft) to take home as a souvenier. I believe it is still in my bedroom in Florida. Exhausted I would take the last, overnight, ferry home. I remember talking to the fun blonde from Canada and her rather large friend, and they were good company as we struggled to sleep.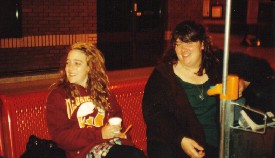 I think this is where I started to learn to travel on my own, always a big first step.

Week 2 Well, I obviously must have had more energy when I was younger, because Monday night (22nd) I would have dinner with Candice and then we would see Miss Saigon for the first time- absolutely blew me away. Tuesday the 23rd a group of us would go to the English National Ballet
Then at about 2am Wednesday meet up with Jessica and Jason to go sleep on the sidewalk, queing up to get tickets to get in to Wimbledon that day! CRAZYNESS!!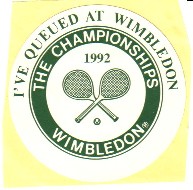 We got to see Mary Joe Fernandez, Ivan Lendl, Sabatini, Edberg, and Navratilova, as well as...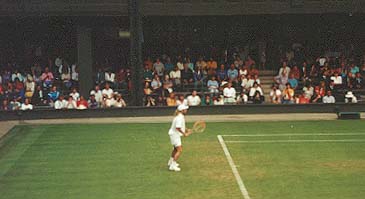 Agassi (eventual champion) vs. Chesnokov
Court #1, Round 2, 1992 Lawn & Tennis Championships, Wimbledon AND THEN I would leave early to go meet up with Candice at Earl's Court to go by some scalped tickets and see...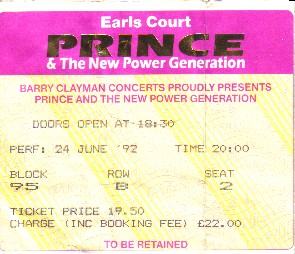 So this is after Diamond and Pearls, and they are already playing material for Seven- an album I would love but obviously hadn't heard yet. I would be so tired as to actually fall asleep for parts. For class we would also visit the Tate Gallery, Chiswick House and Gardens, and on our own The Amazing Virtuality Experience- where thay had video games that were supposed to be advanced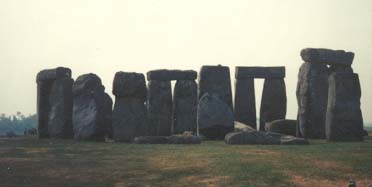 Guess Where?
Stonehenge
Can't believe I didn't get better pictures.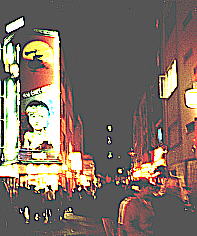 Picadilly Circus

Kathy, Jessica, and Cindy right after Sunday mass at St. Paul's Cathdral, where Princess Di got married Cindy and I spend the afternoon at the park, first checking out Speaker's Corner

And then finally finding the Peter Pan statue . I knew this was supposed to be here and wanted to be sure to see it- from the Robin William's movie Hook, where he wakes up at this statue.


Week 3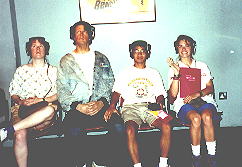 Stef, me, and a new friend
Madame Tussaud's Rock Circus Monday the 29th- "A Judgement in Stone" at the Lyric Theatre
The Equinox Disco one night
The Linley Sambourne House
Friday July 3rd- 5 Guys Named Moe
Saturday I would go to the 4th of July sale (ah that British humour) at the world famous Harrod's- and would actually purchase my first pair of Timberland boots, which I would find to be invaluable.
That night at a pub someone would say to me "happy 218th birthday" and I would think "huh?" until I realized he was toasting America. Love how those Brits stick with us. So our quest for Sunday was to find Abbey Road Studios and duplicate the famous Beatles cover shot


There actually was a lot of traffic, so it was fairly dangerous
To this day I'm still not sure why Craig had to take his shirt off
Abbey Road


CONTINUE