TYLER & DAVE'S ADVENTURE IN THE MED
SEPTEMBER 1-19, 2000
Livin' la Dolce Vita!

So I used frequent flyer miles via Delta, but had a fairly painful route: Austin 7:45am to Atlanta 10:49am, 1:40pm to JFK 3:55pm, Sabena #554 7pm to Brussels 8:35am, Sabena #3249 12:45pm to Athens 5:05. Tyler came in from SF about an hour before with just a single stop in Frankfurt.
With the lay over in Brussels I actually briefly ran out into the city.
Somehow both of our luggages were lost, which was worrisome since we wouldn't be in Athens very long. Luckily it showed up the next afternoon, but it must have been sitting in the rain somewhere because everything was damp and smelled so as well.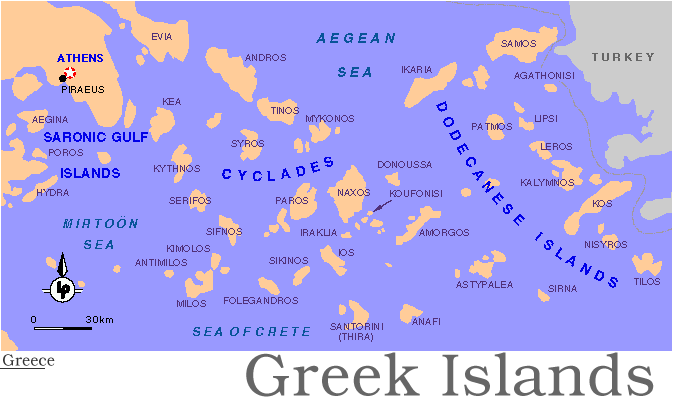 Travel thought #1
From Lonely Planet- "Athens residents will tell you that their taxi drivers are the biggest bunch of bastards in the world." Always one to be ahead of the learning curve, I managed to learn this within a day. Happy to have arrived after 27hrs in transit, with theme songs of Emmanuel movies (the ones growing up in the 80's you would see on Cinemax which for some reason were always filmed in Athens) going through my head and a wide smile on my face, we managed to get charged three times what we should have on the cab ride from the airport to hotel. Also good luck getting a taxi ride in general- I stopped at least 12 cabs trying to get a ride to Lykavittos Hill but since they weren't in the mood preferred to keep riding around without a customer (perhaps they just enjoy the joy of driving? or their manager needs to change their incentive system?).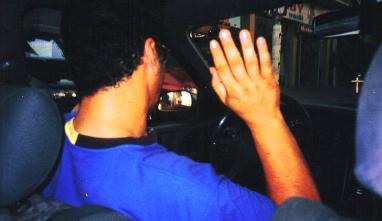 Funny enough I took a picture of the bastard...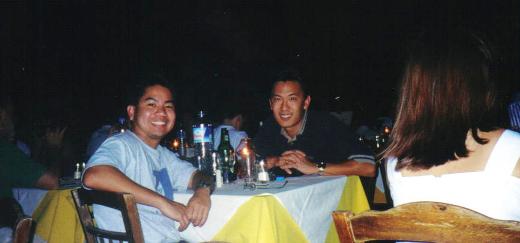 I remember the first night we ate dinner at a Greek place with a view of the lit Acropolis. Had some traditional dish made with grape leaves that was pretty good. We stayed at the Student & Travelers Inn (a hostel)- about $24 each for double. I would recommend staying in the Plaka area, which is where we were, but I guess I still had that just out of college mentality as far as spending goes and will never go this cheap again. Our room had a balcony but faced the main street, so this place was incredibly hot and noisy, and I got eaten up by mosquitos. Be sure to get something with air conditioning.
Just looked at the website and apparently rooms have been upgraded since we were there 5yrs ago to offer AC.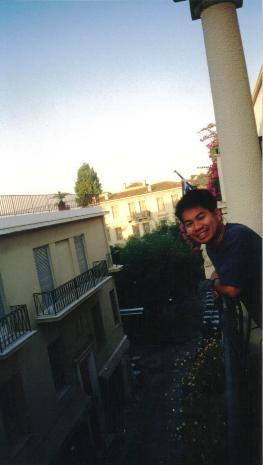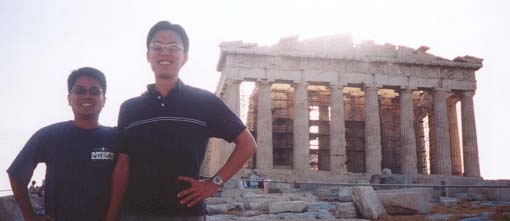 I like to call this one- ASIANS RULE!
Yeah, that's right, never let the man keep you down...
Parthenon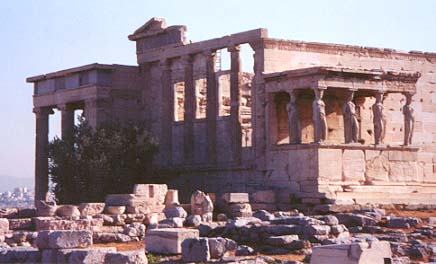 Porch of the Caryatids, Acropolis

Overlooking the city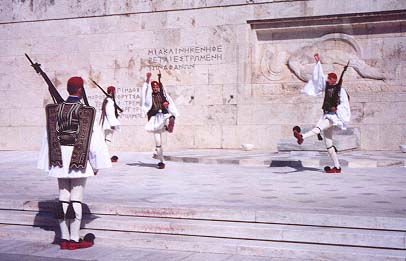 Changing of the guard (evzones) in front of the parliament building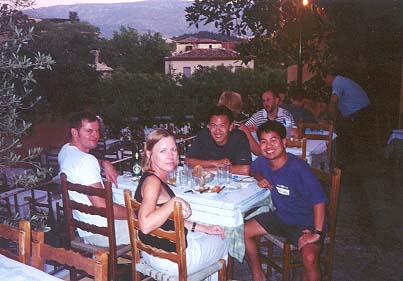 Dinner in the Plaka area with new friends Jayne and Lionel (from Australia)

Random things can happen when you travel. I've run into a girl from high school in a London pub, on the streets of Vietnam had a b-school classmate yell my name as he drove by on a scooter he was hitching a ride on, and now met a USA Today travel writer ( Jayne Clark, pictured above) while talking a break from walking in Athens and got some of my quotes published before I even returned from my trip- too cool. The funny thing is within the previous two months I had bought a book on travel writing and made some attempts (so far weak and unsuccessful) to get my material published. I think it is a sign, and as soon as I can manage to save about $3M (recently revised downwards to $2M) I'll be able to quit my day job and focus properly on my new found calling. Click on the banner below to read the article.

My friends were impressed that Jayne was able to capture my essence so quickly. For the record, some notes below:
While you can get chicken wings from McDonalds in Shanghai and Athens, they are NOT available in the U.S., so I am still exploring the diversity of foreign foods.
Know how when some people are quoted they attach the name of a power school with it to lend some form of legitimacy, like "Brent, a Harvard graduate, states that..."? I was hoping the article would read "Dave, an Austin Community College part-time attendee,..." to be funny, or on the other hand mention Duke, so that we could start being cheesy too, but alas rewards from that #5 ranking haven't kicked in yet...
One theory on "the ugly American" is that Americans are used to a very different level of service and convenience than is generally given abroad, so many of us have improper expectations that are vented when it's really a cultural difference.
Another theory that I've formed from my travel experience is that just about every young person in the world likes Americans and in many ways would like to be like them, due to the influence and wide spread nature of our culture, not to mention the unparalleled opportunity and often accompanying rewards. As these people become older and these desires don't come to fruition in their world, they come to be jealous of and sometimes resent Americans for seemingly having what they didn't achieve. Of course this is a generalization that often isn't true, but it is simply a reflection of human nature- young/old, rich/poor, have/have nots, etc.

Ios
- 4-5"The apogee of sun, sand, sea, and sex." Burial place of Homer? When traveling between islands the hydrofoil seems quicker, classier, and not too much more expensive. However the experience was horrible- it was late, long lines just sitting around, being packed into the interior of the ship. Highly recommend just using a regular ferry- on time, cheaper, plenty of room to sit or sleep above deck.
We hit the island without reservations and took a ride with an Aussie named Alan who promised to take us to good accomodations. He came through and we stayed at the Far Out Village- about $20 each for double (w private bath, A/C, television, phone, pool, bar next door), a terrific bargain and friendly staff.
Perfect location and place to stay- right at the end of Mylopotas Beach (you can take a frequent bus into the nightlife area and about a 20 minute, safe walk back).
Ios was still a party island, but much of the reknowned wildness left with the huge crowds in July and August.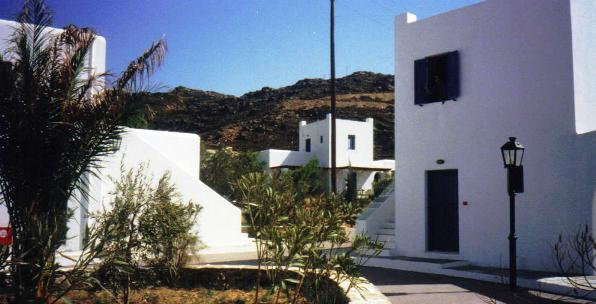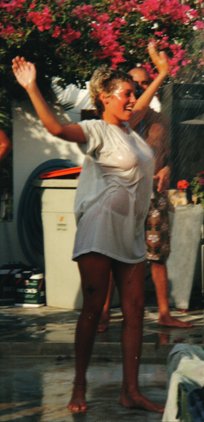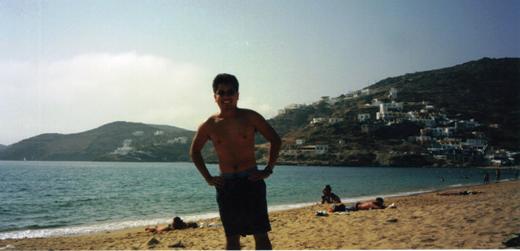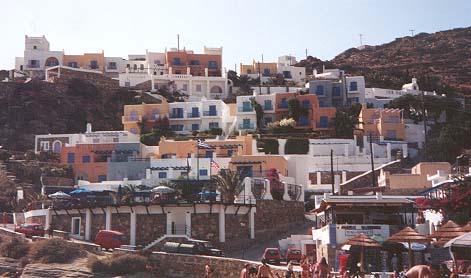 Buildings overlooking Mylopotas Beach
Travel thought #2
The Greek plumbing system will not accept paper or other items, so there is always a little waste basket to put your used items in next to the toilet. So the society that gave us Socrates, Plato, Aristotle, and our democratic ideals can't manage to flush toilet paper? Yes my friends, it is hard to be all things to all people. I must admit no other country I've been to failed to anticipate their society's need to wipe their ass while they were doing strategic planning for indoor plumbing. On the other hand this may provide great insight into why you encounter paper on the floor of public rest rooms- it is simply a Greek tourist trying to do the right thing (and probably thinking "These Americans are so backwards- why the hell don't they provide a waste basket...").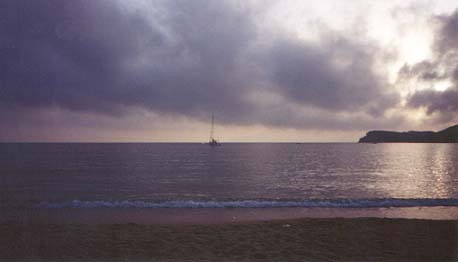 Ever think the more things change the more they stay the same?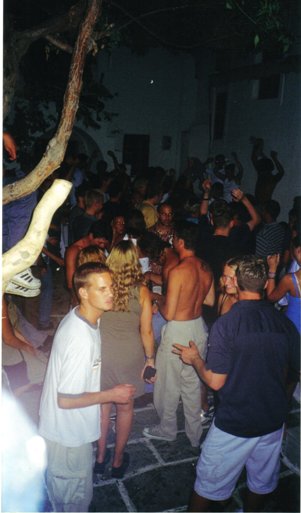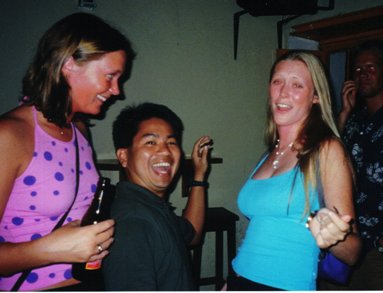 Some very cute Irish girls I was chatting up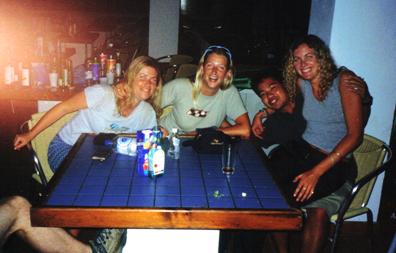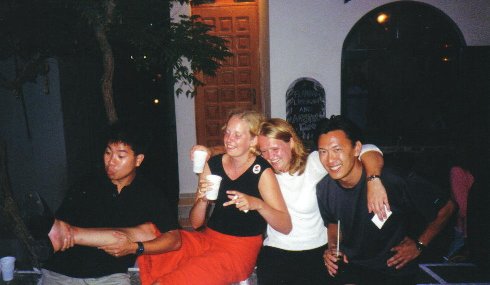 We come to the rescue of some Scandanavians