Dave & Heather's Groundhog/Pittsburgh Trip
February 1-3, 2008
Page 1- Gobbler's Knob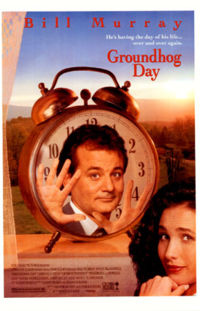 I've had this on my "to do" list for years, and since in 2008 the event fell on a weekend this would be the year. This way I'd only have to take one day off work, as opposed to it being in the middle of the week. Groundhog's Day
Friday the 1st
Dave- AA AUS to #450 8:35am to Dallas 9:35, #3361 10:20 to PIT 1:55pm, $220 RT ITAEPZ
Heather US Air MCO to PIT 12:40 to 3pm, $185 RT non-stop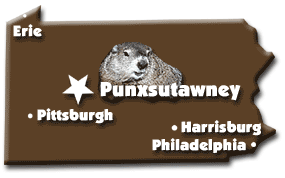 Events

Pittsburgh Airport waiting for Heather

Stay at Holiday Inn Express- Brookville, 20 miles from Punxsatawny, about 30 minutes
$84, I booked this from all the way back in May 2007


Which will it be?


We ate at a cheap, quick, but authentic Chinese place right across the street than slept for about 3 hours, until 1:30am.

Saturday the 2nd
Events Got into town around 3am then took the shuttle bus to the Knob

We were pretty early but still about 30 feet back maybe? Here you can see the ground was frozen. Luckily I wore a ski jacket and pants as Heather suggested, so it kept the wind out, but toes and feet did eventually get cold in teh four plus hours we were standing there. I think the temp was in the 20s, 14 degrees with wind chill.

Kind of scary when you look at it

There was music and dancers to entertain us, which you can see in the video below.


A poor pic of the fireworks around 6:30am Here is my video of Phil coming out of his stump and the prediction for 2008-

6 more weeks! Good series of pics
CNN coverage
AP coverage

It may have been a record crowd- some say up to 40,000 people?

Heading straight from Gobbler's Knob to the big fuzzy orgy

The Phil Mobile More Info
Wikipedia info
Site
Imdb movie site
Movie trailer