Dave's

Page
September 3-9

Friday, September 3rd
Left Austin around 1:45pm, in Hawaii by 6pm.
Part of the overall travel philosophy for the single man would be to do the potentially tougher spots now, in case some future wife wasn't quite as enthusiastic about them. So Hawaii would be considered an easy spot, even appropriate for a honeymoon (and yes there were alot of honeymooners here, particularly Maui). In July I watched the movie "50 First Dates" which was filmed in Hawaii, and thought to myself, "Heck, what if I were to die next year, I would never have seen Hawaii over this notion of it being more of a couples spot!" Plane ticket to Honolulu was booked within the week.



Ate dinner at Duke's canoe Club restaurant, at the bar next to Amanda, who was a Duke waitress off the clock, recently moved from the mainland to the draw of Hawaii
Then hung out with Amanda and her boyfriend Max at a bar called The Dog House

Saturday, September 4th
As all good adventures should start- woke up hung over, but hit the streets by about 8am and it looked like everyone else was in full swing too, perhaps due to the time change from the mainland.
A stroll around Waikiki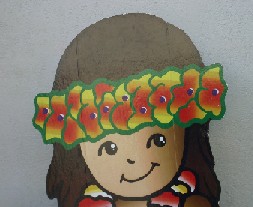 Duke statue

Although certified to SCUBA and sail, at this point in my life I know myself pretty well, and realize my own mortality to some extent, so while I always thought surfing looked cool and I'd probably have a great time at it the very real possibility of me drowning has had me avoid it. Waikiki Beach seems like the perfect place to take that leap- water is shallow, calm, without currents, and with lifeguards and people everywhere. So the next time I am back I look forward to my first and possibly only time surfing- and with a big yellow floaty wrapped around me, just in case.

My breakfast of three slices of SPAM, scrambled eggs, and the requisite two scoops of white rice
This was at a little hole in the wall place (Me Bar-B-Que) run by two older Korean ladies. It was recommended by one of the surf instructors, Troy. Was tasty and under $5.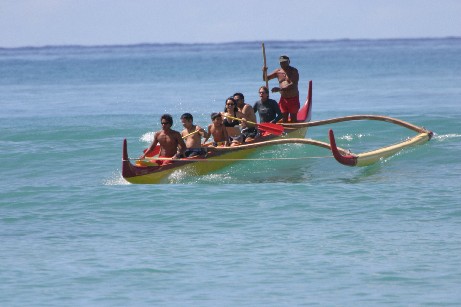 So I was finally all set to go snorkling out at Hanauma Bay around 11am, 2hrs later than planned. Got to the car, only to get pointed out by a couple in an indentical rental car that I had a flat tire. After several calls, I would be waiting around at least an hour for it to be repaired. Luckily some things do have a silver lining...
The first thing was talking to the folks at the hotel desk, they would be able to switch my room (see below), so spent some of this idle time doing that.

View from my original room

View from my newer room Afterwards I walked the beach, frustrated that I couldn't go in the water since I had to stick by my phone. After the mechanic was already over 30 minutes late, there was a beautiful blonde tanning on the beach by herself, so I walked by with an opening line, expecting nothing- "You wouldn't happen to be Australian would you?" I managed to get enough of a response to hear that she DID have some sort of an accent, so I was able to talk things up from there...

SO that is how I met my new friend and Oahu companion Kristen, a Norweigan psychology student doing a semester in Oahu.

Scenic overlook by Diamond Head
Hanauma Bay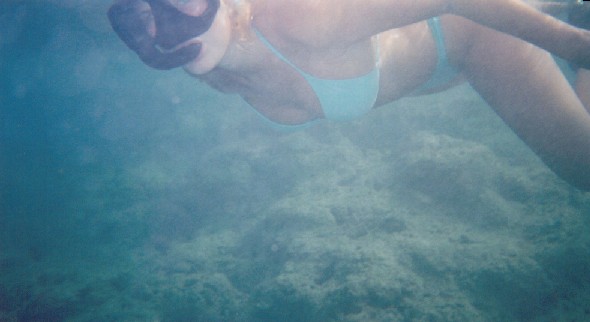 View at a stop on the way back.


Pic of my hotel, the Aston Waikiki Circle
Great location, older rooms but good value
Ate here for dinner with Kristen and her roommate Becca, then had a few drinks at Duke's



According to Lonely Planet- "Waikiki's other top rated Thai restaurant, also has good food. Keo's has long been a favorite with visiting celebs ranging from Jimmy Carter to Keanu Reeves [and now Dave Lee-Sue too], but also has a loyal local following as well."