Dave's

Trip
March 18-28, 2009
28-31 Normandy & Paris, France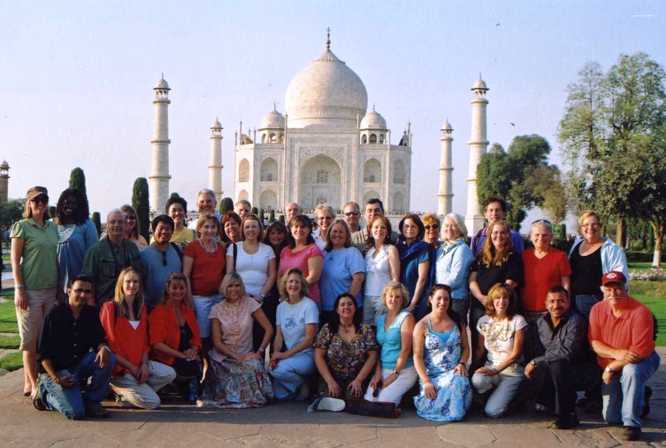 Back row- Amy, Anika, Diane, Rita, Miguel, Gerry, Zeke, Jan, Kevin, John, Jan, Jorge
Middle- Joe, David, Bette, Marlene, Gillian, Grace, Julie, Jennifer, Kathy, Betty, Denise, Darlene, Joyce, Shiela
Front- Rahul, Kim, Deborah, Barbara, Linda, Irma, Ann, Jasmen, Beverlee, Piuysh, Joel

I've been meaning to go to India for several years, and had put actual plans together and revised them several times- even had airline tickets in hand for March 2009. Without having anyone else to go with and not wanting to do India by myself, I found this tour group with a decent itinerary and pricing, but it was already booked up. While traveling in Israel the Mumbai bombings happened and I thought "Hmmnn, I bet some spots will open up." And sure enough several did. The main differences I would have had are to go to several tiger parks, as tigers were a primary objective (with only three safaris on this tour I knew this was really at risk), and to fly out of Mumbai so I could see some of that other major city as well.

"One Billion people, one thousand languages and endless places to seek. India is an extraordinary country, exotic and intriguing. Today it's one of the hottest destinations on the tourist map. Travelers come for the mind boggling diversity and ethereal beauty in a land of ancient wisdom and spiritual devotion. They also come for the festivals, elephants, yoga, cuisine and unique shopping experiences in vibrant bazaars where the dollar is still strong. Stretching 2300 miles long, varied landscapes include mountains, desserts, jungles and beaches. Add magnificent historical sites, palaces, bustling cities, luxury hotels and a rich heritage, there is something for everyone." "The Golden Triangle of Delhi, Agra and Jaipur should be on everyone's list of "50 things to see in a lifetime." Our past group loved this multicultural trip. This year we made it extra special for the nature enthusiast. Ranthambore National Park in Rajasthon is one of the finest tiger reserves on earth. There are just 1400 tigers left in the wild and here is the cat's last best hope. This year there was a welcome baby boom of new cubs in the park. Enjoy game viewing on our jungle safari in search of elusive Bengal tigers and other wildlife." "There's much more too. Imagine riding a horse carriage to the Taj Mahal, riding a rickshaw through the streets of Old Delhi and riding an elephant to an opulent fort! All this is presented at a value price and you'll feel pampered throughout on this fully guided journey."
Beatles in India

18th Friday
Delta Freq flyer 140k miles plus $99. Plus $100 change fee to switch Air France routing to the group routing that opened up.
Continental #251 AUS 1150am to Newark 443pm, Continental #82 840pm to Delhi 820pm next day. Wow, who knew India looked so straight forward to get to?
As it turns out, "fog in Houston" (I've been going to Houston every week for almost the last six months- mid-day fog in Houston?) caused the inbound plane to land in San Antonio instead of Houston, creating a chain of delays. A comfortable four hour layover where I was to do a phone interview and then look for other folks on the trip to start bonding with turned into a four hour delay in the Austin airport, having me miss my connection in Newark by about 10 minutes...great. Continental had all along been saying I should make the connection, but the back up plan was I was also placed on a British Air flight to London, which would have me getting into Delhi about five hours late. Messes up my reason for changing the flight in the first place, but now the objective is to not miss the first day in Delhi. In Newark after going around and around with the Continental desk the guy there said he couldn't confirm me on the BA London to Delhi leg, so my bext option was to wait a full day for a flight the next night. Unacceptable.
On the phone Delta was saying it was Continental that had to help me, when I called Continental they said it was Delta's problem. While on hold with a superviser I could hear the last call for boarding for the London flight, and luckily I could physically see the gate number from where I was- miss that flight and there are no other options to not miss the first tour day...so I hung up and went to the gate counter. Magically the woman there was able to get me and one other guy on board the sold out (in coach) flight and say I would have a seat to Delhi as well.
I got arguably the worst seat on the plane- last row, middle seat, next to a tall white guy in the window seat that was miserable there (f*ckin' suck it up buddy- if I was tall I'd probably be making enough money to fly business class). But I was still in position to accomplish the mission.

19th Thursday
This is the flight the Continental desk couldn't confirm me on? We had rows of empty seats.
Upside- we had rows of empty seats. In coach I not only stretched out but was able to lie down in my own row and get quite a bit of sleep.
Also in terms of luck- after meeting up with the tour group word on the street was two other people were late and going to miss the first day, having been stuck in Paris because of a labor strike. That was my original routing before paying to switch to Newark...I would have missed the first day.

BA#143 11:50am to Delhi

"Delhi a city of mysterious eternity whose old ruins proclaim amajestic imperial past and whose present pulsates vibrantly with the ever flowing life of India. India's capital and a major gateway to the country, contemporary Delhi is a bustling metropolis, which successfully combines in its folds - the ancient with the modern. Amidst the fast spiraling skyscrapers the remnants of a bygone time in the form of its many monuments stand as silent reminders to the region's ancient legacy. The first impressions for any visitor traveling in from the airport are of a specious, garden city, tree-lined with a number of beautiful parks."
20th Friday: Delhi

Arrive around 2am, having left my house about 33hrs earlier.

Easy 400 rupee taxi ride, the key was to find the right taxi stand
About 40 minutes with no traffic Crowne Plaza Hotel
Reviews, #24


Good news! I have been upgraded to a suite.
By the way, there is only one bed and no roll away option. Unacceptable- I'm supposed to hop in bed with a roommate at 3am I've never met after traveling for two days- sounds like a bad Penthouse Letters story. They manage to come up with a handicapped room for me below, and I shower then sleep for about two hours.

"I asked my soul what is Delhi? It replied the world is the body; Delhi is its soul…is how a 19th century poet described this city that has ever been so many things to so many different people. To the weary travelers on the ancient silk route it was the first plain after having crossed the Himalayan Mountains with the promise of shelter, food and business opportunities. To the Afghan, Turk, Greek, Arab and Roman kings it was a vast and inexhaustible source of treasures of all kinds, ¬ to the Chinese travelers it was the land of knowledge and wisdom. Its ageless face saw the advent of Islam. It saw empires being built and destroyed or even merely dismantled to make way for the new and Delhi lived on..." "The British created their own Delhi with large well planned avenues and planted 10000 trees with 112 kms of hedges that it would be green round the year abundant with flowers a botanical paradise. The seat of the British Empire Delhi of 1911 was planned to resemble 'an Englishman dressed for the climate'. Its planners and main architects decided that it would be neither hindu, nor Muslim, nor Buddhist, nor English nor Roman but IMPERIAL a house for the Viceroy that resembled 'a giant Indian bungalow, embattled Rajput fortress and Mughal tomb with shades of Buckingham Palace with English country house comforts. Delhi is perhaps the only city in the world that fuses its past present and evokes its future without losing an iota of its identity. 1300 monuments speak of her antiquity of the ambitions of men who thought they could hold on to her but history proved otherwise. A popular superstition is that it is also known as the 'graveyard of dynasties' with every one of its cities built there heralding the death the dynasty that built it."

"Buffet breakfast in the hotel. Later (at approx 0830 hrs) proceed for a guided combined city tour of Old & New Delhi"

Zeke and I are reunited- and it feels so good...we were on the same Antacrtica cruise about 15 months ago. Good times! "Old Delhi – Happily Chaotic!"

Our first outing with the new group
I believe there were 34 of us, only seven guys. Two couples. Average age probably the 50s. All from America.
For the most part a very well traveled, even keeled group.

My roommate Jorge, a chiropractor from the NYC area. We had great fun together- "Man, you really got schtooked" would be a typical saying.
Also two of my favorite females on the trip- Amy from L.A. and Jasmen, the youngest on the trip at 29, from Jersey.

Drive past the Red Fort
"Overlooking the river Yamuna was built during the years 1638 - 48 when the Moghul Empire was at its peak."


The shoe covers we would have to put on

Funny enough technically I was one of the first shoppers, purchasing this handy whip.
For only a few bucks I wish I would have had it for my Indiana Jones pics in Petra a few months ago.

The group heads out for our bicycle rickshaw ride- this was my favorite activity in Delhi


We saw people with this affliction in several places- polio we think.
Man, glad we have a vaccine. "The tour continues to Jama Masjid, one of Asia 's largest mosques and which is viewed from the outside. People stream in and out of the mosque continuously and the presence of a nearby bazaar means that the area is rarely quiet."
"The boy" as Puge would call him
Interesting to see the caste system at work. He was a really nice guy that would hand out water, towelettes, and candy on the bus.
Here he came along to hold our cameras.

Beverlee and I ditch our shoes
Beverlee is from Florida where I grew up, and would also be quite the shopper.

Oh no, they're turning our women into clowns!
I'm glad the men didn't have to look that rediculous...


Doh!
Guess I was showing too much leg. Sorry Allah, I blame Continental Airlines.

A funny moment from the trip- you could hear Beverlee whine "oh my god" as we saw some drink from this water, others right next to then were washing hands, face and even "hocking in it." Crazy.


It's always good to be king, or the "mayor" as Jorge would call him
Carting around a bus full of Americans with cash to spend no doubt creates his winning formula of contacts + money = power

Raj Ghat, a simple memorial to Mahatma Gandhi

Mmmnnn, unrefrigerated street goat head... After a decent drive we arrive for a lunch of some very good a la carte Indian food

"Later proceed for the tour to New Delhi ..
New Delhi: A Touch of Faith, Philosophy and British India
After visiting Old Delhi, you will be driven to New Delhi,which reflects the legacy the British left behind. The division between New and Old Delhi is the division between the capitals of the British and the Mughals respectively. The division in the walled city and New Delhi also marks the division in the life-styles. The walled city isall tradition where one will be able to glean a past life-stylein all its facets, colorsand spells. New Delhi in contrast, is a city trying to live up to the best of 21st century standards."

Another drive by- the India Gate

Parliament I think?

"The tour to Imperial Delhi will include a visit to the Qutub Minar, the tallest stone tower in India. Qutub-ud-din Aibak started it in 1199. Pulling down 27 Hindu and Jain temples and using their columns erected the attached Quwwat-ul-Islam mosque also built by him."
This also a UNESCO World Heritage Site.

"Then visit Humayun's tomb, built by the widow of the second Mughal Emperor, Humayun, it is an outstanding monument in the Indo-Persian style, a precursor of the Taj Mahal."
Also a World Heritage Site.

Question- how many Indians can fit in a tuk tuk? Well, with this guy maybe three, but we would often see 12: three in the front, six in the back facing each other "blackhawk helicopter" style, and three more hanging from the back.
Back at the hotel Jorge and I would have to consolidate to a single new room, and then I would meet Beverlee for dinner. We ate at the top floor Chinese restaurant, Sampan, which had a good view and live jazz/rock band.