Indianapolis
May 25-27, 2005

I came very close to living in Indiana- going to school at Notre Dame. I got in, but even with an Army scholarship it was still too pricey. Thought about moving here for work once too. Seems like a nice place.

Former co-worker Eric Pan and I at dinner Thursday night at a beer garden

Pics below are from Friday's "Carb Day" for the 89th running of the legendary Indianapolis 500

One of the head marketing people for the track gave us a exclusive pit row tour
Funny enough I think I'm in front on Dan Wheldon's crew here. He won the race, but I had no idea who he was at the time.

So here I am with heavy weight champion Lamon Brewster, who in the pic above was the special guest to wave the green flag to start the practice
He was born in Indianapolis and just a few nights before had successfully defended his title
I had found out all that about 30 seconds before this pic, but I will say he was a very nice guy

There are always celebs here, and the folks last year met James Caviezel. Especially since I am thinking of going to Jeruselam this Christmas it would have been especially cool to get a pic- so I could show the folks in the Holy Land how I met Jesus. Also Colin Powell was master of ceremonies for the race- would have been incredible to meet him, someone I admire very much.

Danica Patrick enters her garage
If I had my SLR or a memory card that I wasn't constantly erasing pics from I could have gotten some great shots as she drove up on a golf cart. Lesson learned in being prepared- good thing this isn't how I feed myself. Making progress though.

Danica and here you also see David Letterman's brother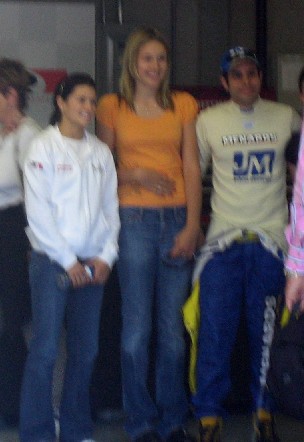 Danica and her teammate Vitor, who placed second, pose with a tall blonde fan

The Miller Light girls in the hospitality room next door to ours

Well folks, if I get to go next year I think I'm staying for the race!
Pics below are taken from other sites:
Danica article
Results