June 1-3, 2004

So I stayed at the JW Marriott Hotel in the Polanco area for free using Reward points, a nice ritzy suberb with tree lined streets. As before, Marriotts outside the US have always been outstanding- great service, best part of the city, unique design, good views, fancy room interiors, English TV, nice pool. This one also had the same great smelling toiletries as the one in Lima.

So these pics are from the mini-van day tour I took. I certainly and unfortunately can't claim to know the "real" Mexico City, as the city has such a reputation of potential violence (including advice from a co-worker, Kathy, who lived there for several years) that I took a very conservative attitude towards exploring. Funny enough in terms of standing out as a tourist Kathy would say "at least you aren't a blonde girl"- but for the record Beeler and the Georgia girls were on buses, subways- really out there and had a great time and no trouble.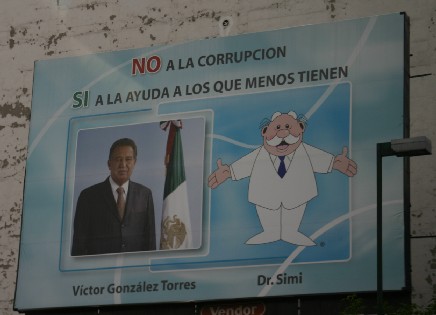 Political ad

Antigua Basilica (Old Basilica)

Basilica de Nuestra Senora de Guadalupe- new basilica, and you can see how much the old one is leaning as it sinks

This is a shot from inside the basilica, taken behind and looking up at the alter
You can actually see the priest giving mass, among the reflections from the glass and cool lighting fixtures above

"The Offering"

More Info

Davine (current student at HBS) and Stephanie (from Montreal), Warren (grad student at FAMU), and me

My token mariachi experience