Dave's Peru & Ecuador Trip
December 13-24, 2003

So I would say this was a really good trip.
Not life changing- I didn't find Jesus, get married, become a vegetarian, or get kidnapped- but it did meet expectations.

Some suggested movies would include "Proof of Life"
Books- Darwin's " Voyage of the Beagle" and " Origin of Species"

Original planning page for this trip here.

Went back and added more pictures May 2008.

12th- Delta #352 AUS 0835 to Atlanta 1139, #1017 1255 to FLL 0240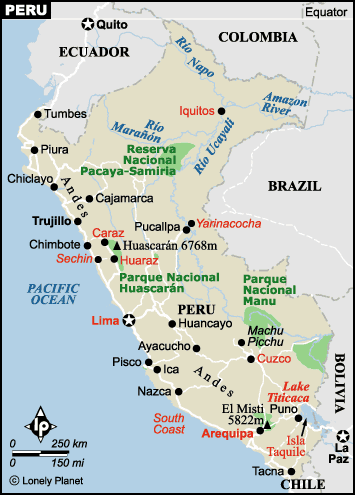 December 13, 16
Copa Airlines #303 Miami 0650 to Lima 1350, $533

Say my name? Cool to have someone waiting for you on the other side

Marriott I stayed at for free using Reward points, and a Peruvian chick that wanted to pose for me.
Highly recommend for anyone- apparently the best hotel in Lima, with a great view of the ocean, highly attentive staff, luxurious room, toiletries rivaling any hotel I've stayed at (cedarwood & sage soap, ginger & lemongrass facial soap, grapefruit & mint showergel, bergamot & tea tree shampoo), use of the executive lounge w good snacks and drinks, more English TV channels than you can shake a stick at (saw we got Saddam as I was running out to my tour) and a great restaurant/shopping area right across the street. Very surreal, unique looking building as well.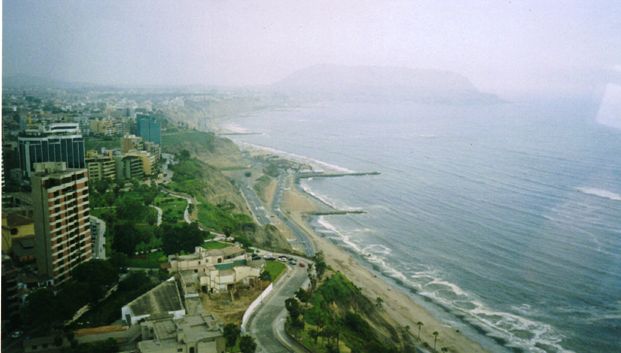 The view from my room

My friend and classmate from Duke, Andres, who grew up in Lima and has recently moved back
He arranged for the driver to pick me up, and we got to hit a bar and have dinner one night.

La Catedral on the Plaza de Armas

December 14
Lan Peru #131 Lima 0940 to Cuzco 1050

As luck would have it, my luggage didn't make it with me, so Monday morning I was leaving for my three day tour with the clothes on my back. It should have come in on the last plane the night before, but apparently a plane landing at the Lima airport had its landing gear collapse, so as it sat on the runway the airport was shut down and all other flights, including the one with my bags, were diverted elsewhere. Often on my trips luck goes my way- so I did sit in the stupid airport for six hours waiting for my plane to Cuzco to leave, but about four hours into that my stuff did catch up with me.
Article on the airport incident here.

Cuzco is roughly 10,000 feet above sea level. Just walking up a few flights of stairs would take your breath away and have me breathing hard for about 10 minutes. Used Peru Gateway Travel for $546
"In the afternoon there is a sightseeing tour of Cuzco and the surrounding valley, including the ruins of Sacsayhuaman, Kenko and Tambomachay." Stayed at the Orquidea Real Hostal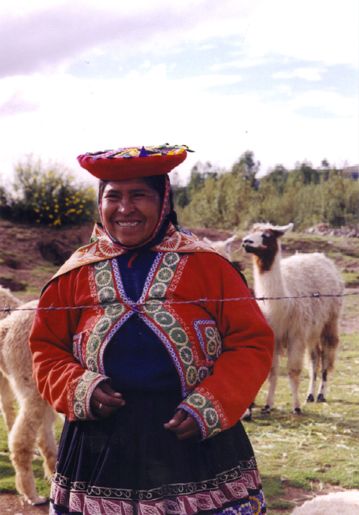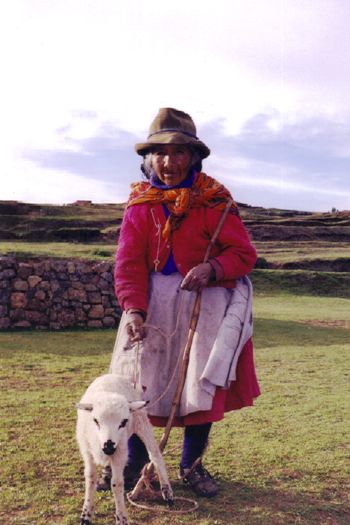 A fellow American traveler who was feeling the effects- our guide stops to give treatment.

Chewing on Coca leaves or drinking Coca tea was one way to keep your energy up to fight the altitude.
Here I am with my dealer.

The rainbow flag you see here doesn't mean this is a gay neighborhood- it is the flag of Tahuantinsuyo, which represents the four quarters of the Inca Empire

I have dinner overlooking the plaza

December 15
0600 PeruRail train, vistadome class
Arrived around 9:45, then walk to bus station, 25 minute ride to gate of ruins
Tour guide named Raquel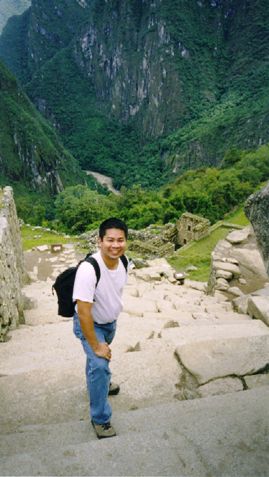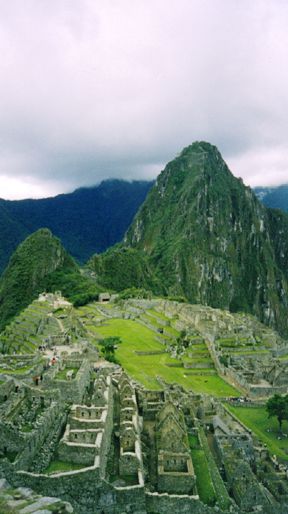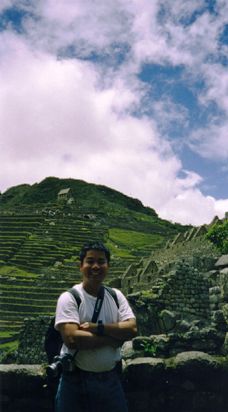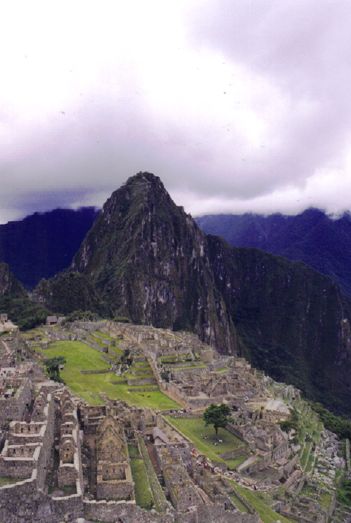 15:30 return train Info on Machu Picchu:
Roy Davies' Page
Machu Picchu Library
Sacred Sites
California Native Newsletter
Tours

Nazca Lines
December 16
So I would be flying back from Cusco arriving in Lima about 10:30am and not leaving for Ecuador until the next day. I didn't think there would be much to see in Lima and wanted to make good use of my time, so I started looking into seeing the Nazca Lines. Every source I asked while I was in the States said I couldn't do it, but I didn't give up, and finally at the Lima airport a travel agent there got a tour operator (Inka Wasi Travel Service) to agree to hold up their 9am group and wait on me, about $370. Cool, perseverance can pay off. Lan Peru #024 Cuzco 0745 to Lima Aero Condor Peru flight 1297 to Ica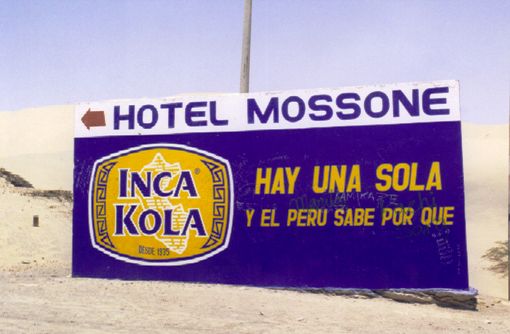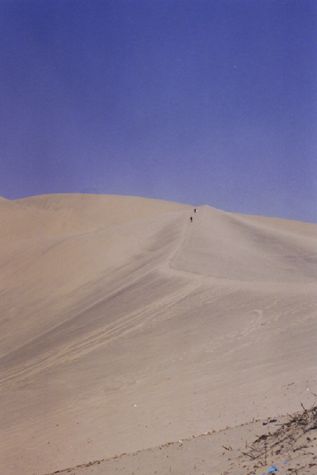 Oasis at Huacachina, near Ica

Mummy head at the Regional Museum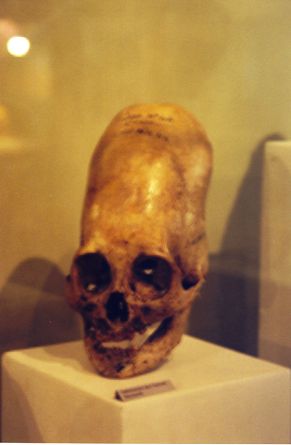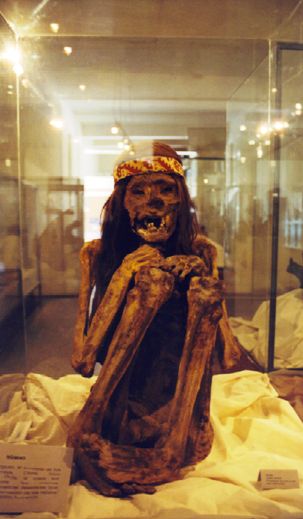 "What'd they do to Willie Nelson?!" I remember first hearing about these in a freshman class at UF, " Lost Tribes & Sunken Continents" (too cool, check out the link- this class is still being given! I had never even heard of the internet back then). It was one night a week, counted as an anthropology credit, and sounded like an extended " In search of..." episode, which I had always found to be fascinating. While it turned out to be a good class, the takeaway was that every cool myth Leonard Nimoy used to examine was really just crap- basically, the native people found a way to do it, and the cool theories were just an old white guy being ethnocentric thinking "these natives are too stupid to have done this, a great white god or alien race must have intervened here."
To learn more about the lines read the links below, explain it better than I ever could. I had researched this on the internet before leaving the states, and several people commented about the plane ride making them nautious, so I was prepared and double patched the transderm scop, one behind each ear. The flight did end up being pretty rough, as it was a super small and hot plane that would swing from side to side so people could get a good view, but the patches came through for me.
There was a Japanese couple on honeymoon sitting right behind me, and I felt for the guy. He was holding out, but was clearly hating his life, his hands all cramped up. Arigato for not barfing on me.

"Astronaut"

"Monkey"

"Hummingbird" Info on the Nazca Lines:
Discovery Channel Canada
Crystalinks
Unmuseum
UK professor