Dave's Prague/Poland
December 1-11, 2007

After a nice, long four day weekend of Thanksgiving spent right at home in Austin, begins a pretty hectic period of the year, most of it by my own design. For 2007 it really feels like I've "been all over the place" both mentally and physically. It has gone by so fast- I can still picture myself in various periods of it- the Gators winning the football national title, good and bad of being isolated out in Hawaii, tackling a Tokyo/Okinawa business trip by myself, being a darkhorse but still rising to the top for an unanticipated promotion, the joy and comraderie of the Gators winning ANOTHER basketball title, 12 hour commute/5 hour time difference between Hawaii/Austin, 2:30am Monday morning conference calls, the work to execute on ANOTHER 4000 mile move, finally getting out to Tahiti, leaving Hawaii behind sooner than I could have anticipated, growing pains of management and having to let go half my team, the ambiguous state of work weighing so heavily on so many of us now... Bottom line is I usually have a year of vacations very well planned out, but coming towards the end of this year, with so much churn, I still had almost two weeks left. Budget Travel magazine seemed to point to this great deal to go to Prague, so I investigated. As many closer friends may know I've always wanted to experience Prague in the winter (having been there for all of about a day before during one of my very early travels) like in INXS' video for "Never Tear Us Apart", which you can see below. It was filmed while still under communist rule (wow, what an ancient sounding concept...) and I find it to be haunting and beautiful. I always wanted to see Poland as well, and this seemed like an opp to do it. Booked through Tatra Travel
$1753 inc air, hotel, transfers, inter Europe flight, two half day tours
Excludes Warsaw stuff While having lunch with my buddy Ross it turns out this year I qualify for FOUR weeks of vacation, plus we always get the week between Christmas to New Years as well, so suddenly for the remainder of the year I am the travelin' man. Went to DC for training this past week, home Friday, then Linda kind enough to drop me off at the airport Saturday. The year feels practically done already in terms of free time.

"Guess who's leaving again?"
Saturday the 1st
Turns out my flight was changed to leave at 1pm, vs 11:15am, meaning this was probably the earliest in the history of Dave I have ever been for a flight. It made it easier for me to use my laptop for a mobile broadband connection to purchase Van Halen tickets right when they went on sale at 10am. Remember in high school having to wait in line outside the record store to do this? Then again tickets were $20-$30 vs $150. Who could have imagined either one of these changes back then...
Am I getting old? : ) Fly AUS to JFK Delta 11:15am to 3:53pm (now 1pm to like 5:40pm). Did get two free drink coupons then upgraded to first class. Cassandra is one of the buds from the 2006 Windjammer cruise that I have magically managed to keep in touch with. Thought I would get to see Amy and Kenny as well but that didn't work out. She picked me up from the airport and we headed over to Broadway straight away after ditching my stuff at her place. Due to traffic we ended up leaving the cab after $20 and ran about 9 blocks to just make the play on time. Most exercise I've gotten in a while.

I love this city

Afterwards it was absolutely freezing out, in the 20s plus wind. We went into Junior's to eat (it was packed but we got in), and it just what the doctor ordered (well, not really...). I got the matzoh ball soup, mac'n'cheese, mashed potatoes and gravy, and an egg salad sandwich I couldn't fit my mouth around. After a nice time there we watched the results of the BCS madness back at the apartment in Spanish Harlem before falling asleep.

Time to pig out!

Sunday the 2nd
Woke up around 9:30, leisurely watching some ESPN and the Dolphins vs the Jets. We ate left overs and Cassandra did up some scrambled eggs. On the way out I get two slices of NY style pizza, then it's an easy time through the airport. Cassandra is one of those great friends that you can just sit around all day with. Patient, open, caring, fun, honest, and with your best interest in mind. Apparently today was also the first snow of the season for the north east.

Monday the 3rd
Airline movie on Prague says "Sleep when you get back home"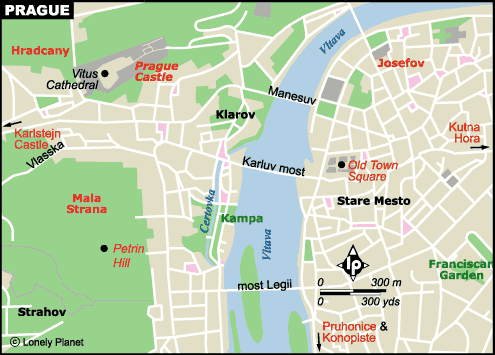 A guy picked me up in a BMW at the airport to drive me in. In his dash he could watch TV, which switched to audio only when the car was moving. Further along than any American car I've been in...
At the hotel they wouldn't have a room for me until about mid-day. So even though I was tired, I'd head out to dawn at the bridge, which was only a 5-10 minute walk away. I stayed at the Cloister Inn


My room. Like the attic I rented for $900 a month for my internship in Greenwich.

Around 7:30am, you see I practically have the 650 year old Charles Bridge to myself
List of statues
John of Nepomuk

Afternoon did a city tour included in the package.
It would be me and four older British ladies.

At a 500 year old pub for a beer stop during the rain on our tour We would end at the main square, where it was decorated nicely for Christmas. Not much of a Christmas market though, really just some stands with sausages.

After a nap I manage to rally and get up around 11, and found this smokey little place that was willing to still serve some food. Got something like a cheese quesadilla.

And I hang out at some club the guide had recommended


Funny enough there is a polar bear there