DAVE's RUSSIA

May 8-22, 1998

So here I am again, this time seven years after the fact, trying to remember details of this trip so they aren't lost for all eternity and get this site up to speed as well.
Special thanks to Tracy Matsuo, John Lin, and Bill Rathbone for digging up info and pictures for this! Trip was $3070 on top of our tuition...
Flew US Air and Finnair

Our leader, Professor Bill Sax RDU through LGA to JFK through Helsinki to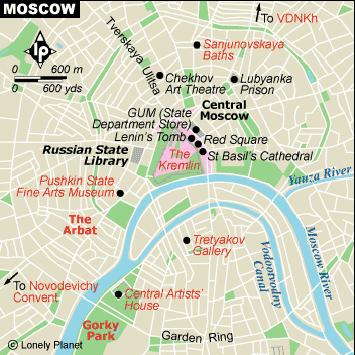 My Russian visa, in Cyrillic. So basically I can't read a thing over there.
9th Saturday

As native as 28 American students can be, we took the native Moscow subways, whose stations were pretty nice.
Something of note was most young couples riding the escalators would stand with the girl facing backwards, one step up from the guy, embracing. Very PDA.

The Three Daves
I honestly have no idea why, but our first dinner in Russia was at the American Bar & Grill, an American themed restaurant. I could see if we had been out of the country for a while and were starting to get tired- yes, I am guilty of having eaten a Big Mac and gone to a Hard Rock Cafe or Planet Hollywood, when I actually don't go to those when at home in America. Not exactly sure what we were thinking.

We then ran around Red Square at night- Dave and I by St. Basil's Cathedral Then hung out for drinks in the hotel lobby

10th Sunday

Next morning outside of our hotel with Susie & Deb
We stayed at the Hotel Danilovsky- which is inside an Orthodox Monastery

Ferris wheel at Gorky Park
It was one of my objectives to see Gorky Park because it was one of the few Moscow things I had actually heard of, plus I knew the new from mention in the Scorpions song playing on this website.

I also needed to find this real shuttle, now apparently a space themed restaurant
Inside Gorky Park

Red Square made up for the holiday

Susie (our next door neighbor at Duke) and I at the Trinity (Troitskaya) Gate Tower entrance to the Kremlin- part of the afternoon city tour


World famous Moscow Circus (actually was pretty boring)
Zavelson swears the performance was anti-semetic since the monkeys were wearing yamakahs All of us ended up at the infamous Hungry Duck for a pretty late night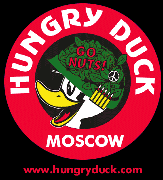 I did get to dance on top of the bar, along with a lot of other folks. Becky managed some pole dancing, and apparently back towards the bathroom some girl was getting some hand action. Funny enough the bartender here had a Duke baseball cap on- small world.
11th Monday

At Russia's first McDonald's with Bill


Apparently it is the busiest in the world as well, and is considered prestigious enough to do business lunches here

Danelle and Tracy- otherwise known as the hammer & sickle
Just kidding! Bunch of us went to The Chance Club, some gay club Laura's friend who used to be an admissions officer at Fuqua had really recommended as cool- I suppose good novelty factor. Well we had to walk through what seemed like a dodgy neighborhood, and the people swimming in tanks that we had heard about didn't materialize- looked like small dirty fish tanks that I would barely fit into. This article I found may explain why.
A redeeming factor of this place was that the guys got in for free, and the girls had to pay a cover. Guy power!
12th Tuesday
All day company visits:

Chase Manhatten Bank
Exxon
U.S. Embassy

Red Army Choir performance
13th Wednesday
Afternoon company visits:
Proctor & Gamble
McKinsey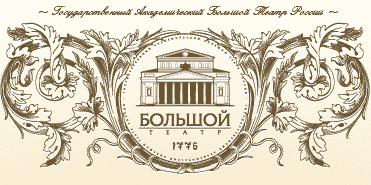 This evening we went to the world renowned Bolshoi Theatre to see "One of the oldest and greatest ballet companies of the world" perform Tchaikovsky's Swan Lake. While this sounds very cultured of me, if I hadn't recently stumbled upon the program and ticket stub I would say that I had never been to a ballet, and sadly I can't remember a damn thing about this one. I think I remember the place being hot. We took an overnight train where I shared a cabin with Dave and many of us hung out a large portion of the night getting really drunk.


Here you see one of the public posters celebrating the holidays that were hung around town. I went into a high end shoe store with beautiful store girls, and a one big security guard to protect them from mafia, and they gave me the one hanging in their window- very nice of them. Below with Susie and Becky.


Shopping I got this nifty hat as well as a metal flask with Lenin on it and some nesting dolls. A funny set of dolls I should have picked up were the women Clinton has slept with.