San Diego
Page 2

Monday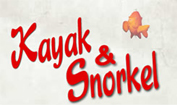 10:30am "Join our Kayak & Snorkel Tour where you get can get up close and personal with the leopard sharks, Garibaldi, and other local fish!
This guided tour is a combination of our Kayak Tour of the 7 Caves, and a snorkeling adventure. Take advantage of this rare opportunity to snorkel with the harmless leopard sharks, as they only are only visible for a few months each year!
Snorkeling in La Jolla is made easy by taking snorkel gear aboard the kayaks! Paddle toward the sea cliffs and caves where you'll strap on snorkeling gear and explore the underwater world within the La Jolla Ecological Reserve. The sea caves, sea lions, leopard sharks, garibaldi, and shovelnose guitarfish make this kayak & snorkel adventure a must on your San Diego vacation! This is one of our favorite adventures to share with San Diego visitors!"

Cool- you can see the land plate on the left is subducting the one on the right
Garibaldi- the state fish of California

There were also leopard sharks swimming right under us by shore

The "Beach" on the second floor roof of the W
We ran back to the hotel to clean up, then back to the Zoo

Some cacti Linda liked
Koalas
Wallaby

A Klipspringer at the African Rock Kopje exhibit

YES! I finally get to see meerkats.
I didn't get to see them in the wild on the recent trip to Botswana, really the only disappointment on that trip. They are tinier than you would think from TV.
Striped hyena

Warthog love


The 6pm hippo feeding
Caracal

Unfortunately we didn't get to see a polar bear in the water.
I also thought it was odd that the polar bear could actually view the reindeer next door- you'd figure that would have to stress the poor reindeer out...

Giant Pandas!

Tuesday
Linda got to sleep in, and unfortunately I tried to catch up on some work. Everyone I had ever spoken to about San Diego absolutely loved and raved about it, so it was nice to see it for myself. I can see how people like it- the weather did feel about perfect and it was quick to get around everywhere. Delta #1160 1:15pm to 4:05, #4051 5pm to 8:43pm
Info

Wiki Travel
EnterSanDiego.com
Gaslamp area
infosandiego.com/attractions
Beaches