DAVE'S SOUTHEAST ASIA SCHOOL TRIP
DECEMBER 29-JANUARY 18, 1999
A

Experience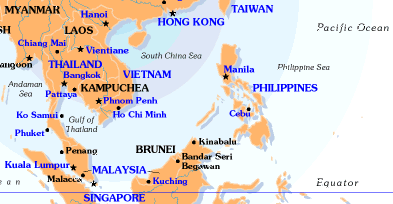 Do I recommend Fuqua continue to do this trip? Yes, yes, yes!!! One of the most enjoyable things I will have done in my two years at school, and I haven't exactly been a wallflower. Why should we continue it? It provides: · Real world learning about other cultures · A great opportunity to learn about yourself and your classmates · A fun time · Good value
· There's no substitute for actually being there
In the beginning… Global. We strive to be a global MBA program, yet know very little of our peers from Southeast Asia, who are learning quite a bit about us. Outside of the impressions of exotic danger that my generation has learned from the song "One Night in Bangkok," what could any of us say about Thailand? Is there a market for illegal gum-running in Singapore? How could people live under such an oppressive society? What resentment for Americans is left two decades after the Vietnam War? Can a vegetarian eat Ramadan? Who cares about Malaysia?
These and many other questions were answered only by us being there.

Tamara and I left before the main group but got bumped off of our original flight.
As a result we ended up flying first class on Delta!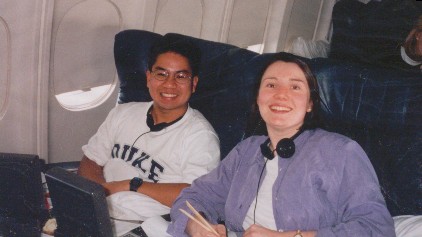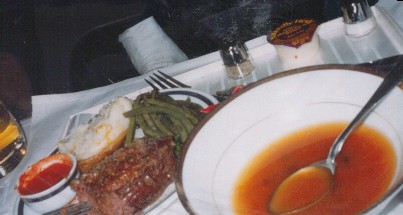 I include this pic because having now been a frequent flyer, and looking back on this meal of steak, asparagus, potatoes- I really doubt you would see this today, even in international first class. It is also unfortunate that right now (Sept '04) Delta is in trouble.

However since we were delayed again in Vancouver, having us probably miss our connection, we spent the night and part of the next day in Tokyo. It also happened to be New Year's Eve.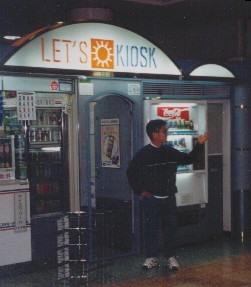 Funny that we would be halfway around the world and run into this
(At Duke I was one of three managers at our on campus snack shop called "The Kiosk")
Also of note is that while waiting for our train into the city a Japanese couple would stop us to ask me for directions- "Ummm, shouldn't I be asking you?" : )
Call me global Dave- all things to all cultures!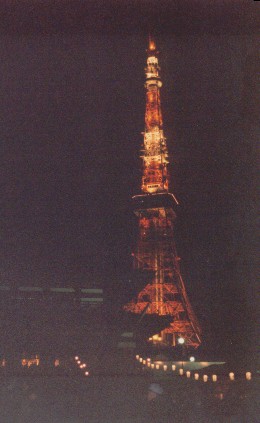 After checking in to our hotel we ask what the thing to do would be to ring in the new year- and so we head to the Tokyo Tower

New year in Japan is a religious celebration as opposed to a big party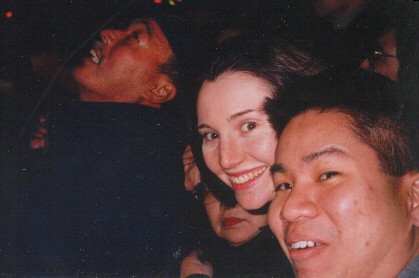 And that is how Tamara and I would enter 1999
Looking back on it, my first moments in a place I had only really known through WWII documentaries and the television mini-series Shogun.
Man, the romanticism of being a stranger in a strange land during a notable calender date... really takes me back.

I don't really have a record of what hotel we stayed in. I know it was walking distance to the tower, fairly small, and fairly expensive. So, new year's day...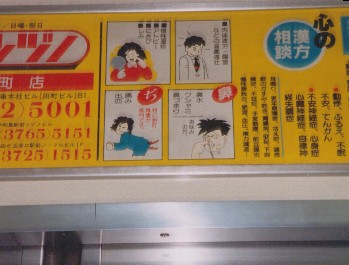 You have to love the Japanese and the cartoon culture. Still not sure what the heck this really means- subway etticate?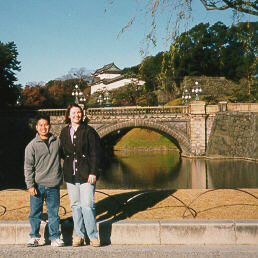 New Years Day in front of the Emporer's Palace
And so that afternoon we are on JAL flight 735 to Hong Kong...


One of the world's most beautiful city skylines
From Kowloon side

A view from Victoria Peak
I remember on planning to take a stroll around the peak, but in a t-shirt and shorts it was uncomfortably cold

One end of the Hillside Escalator Link- apparently the world's largest escalator

Hong Kong by night
Island area
Before dawn on January 3rd we are reunited with our classmates at the airport. We all look tired- but in my mind I can still picture the genuine, caring smiles of Alan, Tyler, and the others as we greet each other. First time we've seen each other in a few weeks since we had the holidays.
As the sun rises we board Cathay Pacific flight 767 bound for Saigon...