Dave's Spain Trip
August 21 - September 8, 2003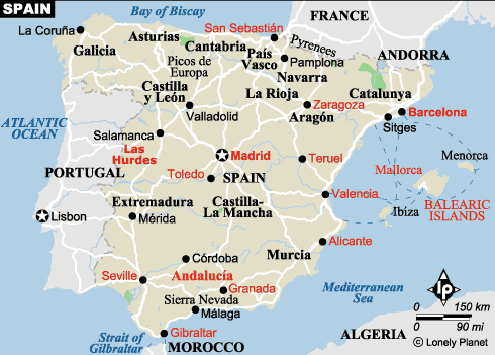 Suggested movies would include "Barcelona", videos Madonna's "Say Goodbye", books Hemingway's "The Sun also rises".

Ibiza
August 23 - 26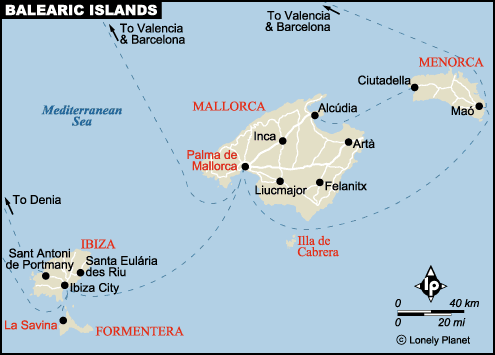 Might as well start this web page off on a positive note
Es Pujols beach on my day trip to Formentera

Obligatory shot of Old Town

Just part of the party hardy attitude of Eivissa- underwear on your head! Craziness!
Boat to Formentera

Overlooking Formentera

Heading into Playa des Cavallet
Wiki info
NY Times article
Formentera tourism site So this is one of those legendary party places you would hear travelers and the Germans at business school talk about. Ios would be the other, and now I can compare the two since I've now been to both. Ios is much smaller and intimate, with mainly small bars in a central area. Ibiza is closer to Cancun- with huge mega-clubs, spread out, and VERY expensive to get into. Worse than either of those places is that things really don't get going 'til 4 or 6 in the morning- way too late for me. Due to August being holiday time for most of Spain, alot of the folks here were actually Spanish families. On a positive note Spanish women are gorgeous, with the mothers often more scantily dressed than their teenage daughters...


Sunday night Foam party at Amnesia


By the port promoting for the club "Space"


Monday night Manumission at Privilege, the world's biggest club

My Spanish may be a little rusty, but I'm pretty sure "Guetta" means "I want you to have crazy sex with me"
info
info
Stayed at Hotel Rocamar, 90E w A/C, friendly staff, clean, safe, good location on port side

Barcelona
Madrid
A day in London
Stockholm