Dave's Zihuatanejo/Mexico City Trip

May 29 to June 3, 2004

This shot is taken from the Hotel Catalina website, but I decided to leave it up since it really gives a great overview of Z

29th- Houston Aeromexico #447 7:20am to Mexico City 9:40, #351 11:15am to 12:05pm
30k freq flyer through Delta + $51.86
Trip started off right- got upgraded to first class on the first leg. Those Mexicans sure know a VIP when they see one... ; )
So yes, this is the place Tim Robbins' character in the movie " The Shawshank Redemption" wants to get away to. Quite a few folks had the same story as me- planned a trip here knowing the name from the movie, did a little more research and figured the trip was still a good one.
Either that or they got a good deal on Alaska[Gold MVP] or Frontier airlines.
Actually view last part of the movie
More movie info
More movie info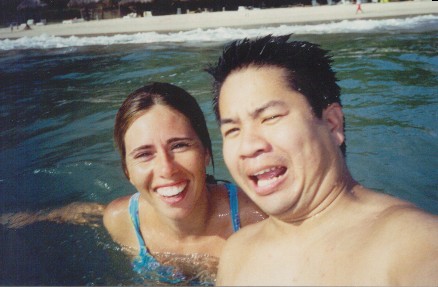 So I ended up floating around with Isabel for a few hours in the bath water-like ocean, having delightful conversation that chance travel encounters often provide. She's been in Zihua for about three years teaching languages (she knows French, English, Spanish, Portugese, and German), is from France, and has traveled all over world. She's even lived in Oregon- and mentions that when encountering American tourists she finds to be annoying sometimes pretends not to know English.
This was also the first chance to use my new waterproof Elph camera, having tired of the results from waterproof disposables.

Sunset dinner and many a Sol cervesa with Lisa, Shelly, Mandy, Emily, me, and Jenny- girls from Seattle
Lisa- 5'10", great figure, cute voice, studying for her CPA. Shelly- former Dell Canada employee, recently moved to Zihua and teaching yoga. Mandy- say anything, throaty voiced type of girl that might drink you under the table. Emily- quietest of the bunch when I was around, stunning eyes, nanny to the rich. Jenny- reminds me of my friend Becky Streeter from my Army days.

I'm know myself pretty well and am fairly comfortable in my skin at this point, so I can say that I'm pretty smart, funny, and have been able to hold the attention of entire rooms. But if ever a man needed a wingman, this trip would have been a good occasion for one.


View of Playa la Ropa from my hotel, the Catalina Beach Resort
When I vacation by myself I usually plan alot of activities so I don't get bored or lonely. I figured there wouldn't be that much to do here, so wasn't sure how well this vacation would go, and carried several books. As it turns out everyone would hang out on the beach most of the day, and most of the people were well traveled wonderers like myself open to meeting interesting new folks, not like some resort where folks might want to simply stick to themselves.
Honestly this trip WAY exceeded expectations and I had a terrific time.
Would also recommend my hotel to anyone- only drawbacks are what other folks have said as well: lots of steps, and could have used air conditioning. I actually had an A/C unit on the wall of my room, but apparently it was going to take several more months to get the remaining parts from Germany...

The start of my morning walk towards town

The basketball court, the centerpiece of the town

So the Meg Ryan/Andy Garcia movie "When a Man Loves a Woman" has some scenes in Zihua, particularly the pool at the fancy hotel La Casa Que Canta. Always looking to copy a movie shot, Tori, Elizabeth and I were off. Trying to walk in through the lobby we were stopped and told that this was a very exclusive place and that guests would recognize any outsiders- so busted there. But heading back to the beach we saw some guests leaving through the backdoor, and in we went. I wanted a pic of me IN the pool, but the girls got antsy. So not getting in the water, and hindsight being 20/20, should have kept the shirt on for this one.

Dinner downtown at Casa Elvissa with UGA interior design ladies Caroline, Tori, and Elizabeth during the middle of a huge thunderstorm and lightening downpour
So Elizabeth wins my "intriguing girl of the trip" award- petite, blonde, young, well educated, petulant in a cute and pouty way, independent, budget conscious, slight southern accent, goes by her last name "Beeler" to her friends, well traveled and getting more so every day. Refers to Switzerland as "just a bunch of white people." Likes pina coladas and getting caught in the rain.


I must admit, this one was Tori's idea, and a brilliant one at that

After drinking 2-for-1 mojitos at the hotel bar, I took my new friends Ward and Becky (Stanford grads moving to Boston so Ward can get his MBA from HBS) with me to get picked up by Isabel (who I had met the first day) and her friend Jasmine (half Mexican/Philipino, grew up in Zihua). We got to eat at a restaurant where each entree was about $1.20, and since Monday nights are kind of slow was able to convince everyone to see what was up at the local karaoke bar Tequila Town, where my Seattle neighbors were also supposed to be.


Jasmine, myself, Becky, Ward, and Isabel tearin' it up

After a local chica got things started in horrible tone by almost any standard, Isabel and Jasmine did some fine Spanish songs, but the room was ripe to be taken to the next level... My set list was:
I Want It That Way- Ward and I tore that one up
Hanging By A Moment
How Deep Is Your Love- my rendition shown below with Lisa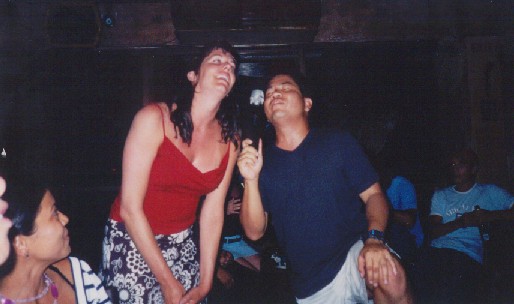 The way this place worked was they made you do three requests in a row- by the third song I was dripping sweat and exhausted, but kept on pushing since I knew I had to do it for the fans [hee hee]...
The next day Lisa would state that I "got the party started." Compliments are payment enough, my friends.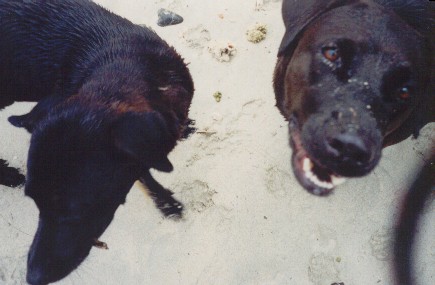 Yes, opportunities to make friends were boundless.
Thunderstorms that ran into the morning had me cut off my planned snorkling trip to Playa Manzanillo, so I had the boat guy take me to Playa las Gatas instead. Place was rocky, deserted, and had lots of basura around from the storm. So these black labs were kind enough to keep me company, and the mom even kept jumping up to kiss me on the cheek.
Putting yourself out there can often lead to a less than ideal situation turning into unexpected goodness.
It turns out that today was some sort of holiday where people would go out on their boats and throw water at each other in celebration- sounds like Spain's La Tomatina but with boats and without tomatoes. Anyway, I saw some locals decorating their boats with brightly colored balloons ready to head out. I asked my boat driver if we could go, he agreed and said he would go back to the pier to get his family and come back for me, then we would go to the parade.
Well, after an hour of sitting around I thought I had been told, as my waiter eloquantly said, a "Mexican promise" and that I was now stranded. Fortunately my guy did come back, he was just on Mexican time.


So a butt load of boats, most decorated, headed out of the bay. Some boats had Navy personnel in their dress whites, another had a band on board serenading us with Mexican music the whole way. Everyone eventually gathered by a certain spot (amazing that no one collided in all this), a short speech was said, and some wreaths laid into the water, then we headed back. I thought this was a WAY cool experience, not only the serendipity but also the fact that I was the only non-Mexican there.
So what was this event? For all I knew we could have been a part of some mass refugee exodus to Easter Island. Turns out it was the Mexican national holiday Navy Day, held every June 1st.




AeroMexico #426 3:50 to Mexico City 4:55pm
Got upgraded to first class here as well


So Meg, with her husband Matt, is a travel writer that had been to Zihua once before. This is her first time back, and is the first place they have repeated. She is also the writer of the article below that I had printed out and used to help plan this trip- small world. Don't know why I didn't think of this earlier, but she has also given me the brilliant idea of me listing my second occupation as a travel writer- enabling me to write off my un-reimbursed business expenses.
NY Times article

Seattle PI article
T&L article
"Love in Zihua" story- I actually remember reading this one when it was originally published Info-
Zihuatanejo.net- good resource
ixtapa-zihuatanejo.com
mexonline.com
zihuatanejo-ixtapa.com
zihuatanejo.com.mx Traveler opinions
Traveler opinions